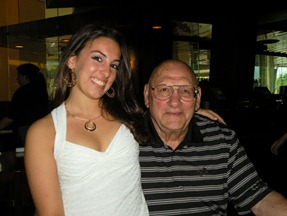 Did you know that there's a direct family tie to #87 Ron Kramer currently at Michigan?  It's true.
Kelsey Kramer (left, with her grandfather) is a senior at U-M and the granddaughter of the man we will honor on Saturday prior the the kick-off of the UMass game. 
The 21-year old is a psychology major & was kind enough to chat with me about her about her grandfather, her thoughts on the unretirement, who she'd like to see don the #87 and much more.
MVictors: Do your fellow U-M students know who your grandpa was and what he did on the football field?
Kelsey Kramer:  They figure it out eventually. I remember during my freshman year, my grandpa came to take me out to lunch. When I got back all my guy friends were like, 'Who was that? That guy was huge!' I told them it was my grandpa and mentioned that he used to play football here…and they went straight to Wikipedia & figured out who he was.
They'd say, 'Why didn't you tell us he was a Hall of Famer and played with the Green Bay Packers..,' and all that stuff. I didn't really think about it—he was just 'grandpa' to me. I know many of the guys on the football team definitely know who my grandpa was.
MVictors: When did you find out that your grandpa was going into the Legends Program, and how do you feel about his number be worn again?
Kelsey Kramer: I found out about a month ago or so and I thought it was a great idea.  I really like the idea of having the number on the field again because when it is in retirement, I think a lot of people, especially those my age, definitely don't know who Ron Kramer was.  So with the Legends Program bringing it out on the field and having the ceremony– it really keeps those memories alive and keeps him around Michigan in a way. I'm excited about it.
MVictors: So is there anyone in particular you'd like to see wear the #87 on Saturday?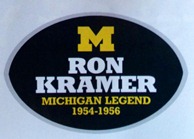 Kelsey Kramer: Craig Roh would be my pick, if I had a say in it, but I really don't [laughs]. I know he does really well in school because I've had a couple classes with him. He's on the field a lot obviously.  With the number I want to see someone running around with it out there.  It'd be nice to see someone who's a starter and I know [Roh] personally from freshman orientation and working in the office. I think he'd be a good pick.
MVictors: Your grandpa was a tight end & freshman Devin Funchess made a lot of plays last week against Air Force. Would you be ok with a freshman getting the honor?
Kelsey Kramer: He was phenomenal.  Absolutely, that would not bother me at all. And it might be nice for them because they wouldn't have to find a new player every year.
MVictors: Any special plans for you on Saturday?
Kelsey Kramer: My family is coming to town from Florida, and I'll probably just be spending the day with the them. The pregame ceremony will be down on the field which will be fun. My family will probably get together and tell stories about my grandpa over a few drinks–like he would want us to do [laughs].
MVictors: I understand you have a special necklace that you wear to games?
Kelsey Kramer: I do, yes. It's [a necklace with] his ring from U-M. I always wear it to get that feeling that I have part of him with me. Being at the school really brought us together because I'd see him a lot during my freshman and beginning of my sophomore years. Wearing it is just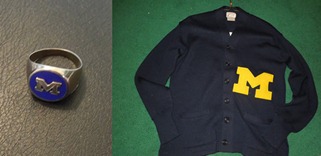 a constant reminder of him and what he did here. I know that when I work with the football recruits they think it's cool too. Sometimes I also wear his big varsity cardigan with one of his letters on it.
MVictors: So you have one of his varsity letters on a sweater?
Kelsey Kramer: Yes, you know he got nine letters and one of them is on a cardigan. Obviously it's very big on me [laughs] but sometimes I wear it to games in the winter.
MVictors: So you mentioned the recruits. So how did you get involved with Team Blue (the program where current students work with the visiting recruits)?
Kelsey Kramer: My grandpa was so involved with the athletic department so when he died, there was a part of me that wanted to continue that, to kind of continue his legacy in some small way. So I went to [the athletic department] and was told about Team Blue. Basically we'll have brunch with the recruits and their families and we'll walk them onto the football field during warm-ups so they can watch. We'll also take them to their seats and watch the game with them, then take them back through the tunnel after the game is over. We also go into the office two hours a week for administrative work.
MVictors: Any special plans after college?
Kelsey Kramer: I'm hoping to go work for Cisco*; I want to go into sales. I really enjoyed my internship there this summer.
MVictors: Thanks!  Good luck to you Saturday.
*Memo to Cisco: Hire this young lady immediately – she is sharp.
———————————————————————————
All photos courtesy of Kelsey Kramer
Related:  Kramer Just Being Kramer
Follow MVictors on Twitter