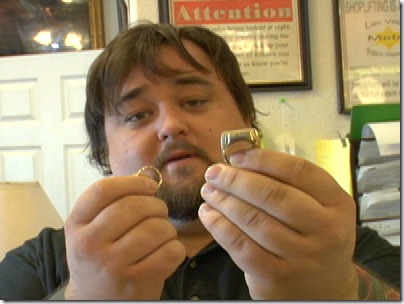 That's Chumley from Pawn Stars – the internet is great
I just chatted with Aaron Herdez of Herdez Pawn in Phoenix, AZ.   He's the nephew of the shop owner and was willing to talk about the status of the Scot Loeffler 1997 Michigan championship ring that showed up on eBay.   To recap, once word was out that former Michigan assistant's ring was stolen, the authorities were contacted and the eBay auction was pulled.    A few different MVictors readers reported contacting Loeffler directly (or through family members), confirming that he wanted the ring back and was upset at some of the neg bombs flown his way, implying that he sold it.  
A few quotes from Herdez on the situation:
On Loeffler:  "He didn't call it in stolen, he said he lost it and then he changed his mind."  "We don't know what really happened."
On how the store treats items like this that come in the store. "We do a police report for everything that comes into the store."
What is the status of the ring?  "It's not for sale and it's already been seized [by the police].  If I want it back I'll have to take it court."
On how they came to own the ring:  "Everything we get comes from customers that walk into the store."
When they got the ring:  "I really don't know, would have to look into the system."
Do they intend to fight this?  "We really don't know yet."
Do the police decide what happens to the ring next?  "Yes, it's really their choice."
On their next move.  "We lost out on this".

    
It sounds pretty clear to me: Loeffler's getting his ring back and that's that.  I'm trying to get confirmation that it's back in his hands.