It looks like a beauty day out there. A little nip in the but right now, barely a cloud in the sky. A couple things to look for out there today:
Michigan Helmet Stickers, version #4 – We're collectively still not clear on what they look like (**Update – now we do, see below). Given Harbaugh's propensity to bring stuff back from the Bo era, my gut says they'll be similar to version #3 that the Wolverines wore from 1985-1994 or version #2 from 1975-1982, maybe smaller. Of course version #3 is what they looked like when Coach Harbaugh was quarterback Harbaugh:
Hopefully the new decals will have updated maize and blue tones to match the 2015 helmet and jersey. Remember we've whiffed on this before with the first incarnation of the helmet numbers – which would have been a closer match to the 2015 helmet: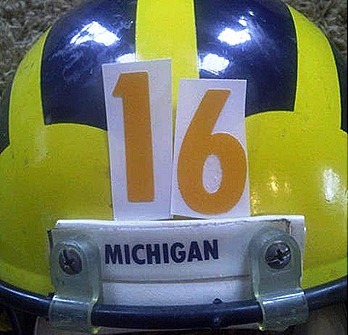 ** Update: Via MLive's Nick Baumgarder, this crude shot of the 2015 decals – indeed appears to be mimicking version "#3" – the 1985-1994 version. We'll be sending something to the Dr. Sap labs for full analysis: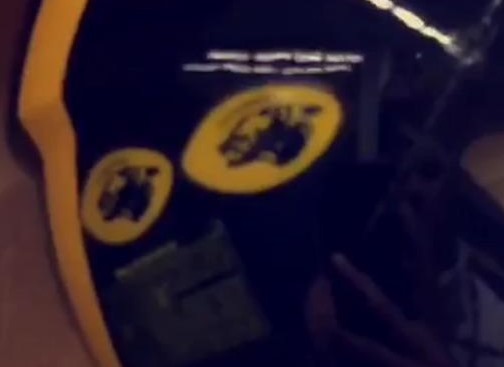 Jerseys – Look for the darker tone of blue on the jerseys – almost black to the naked eye – along with the darker maize pants and stripes. Do you have that pair of pants in your closet that is such a dark blue that you question whether it's actually black? I think that's what we're talking about here but we'll see.
Sidelines – One thing I noticed in Utah. When there's a timeout or whenever Harbaugh gathers a particular unit during the game, most of the bench seemed to clear out to join the huddle and listen in. We've seen this before at big moments of the game, but it seemed to be a regular thing with this crew. With a full sideline today (meaning everyone dressing vs. a trimmed down road roster) it will be pretty noticeable if it happens.
GO BLUE banner – Will Harbaugh touch the GO BLUE banner on the way out to the field? Odds: 85% chance that he does.