The forecast is a bit grim for tomorrow's scrimmage at Saline High School: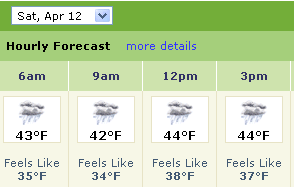 I guess the only way that could be worse is if there were lightning bolts in those cloud graphics, or snow flakes. We'll see but they've made no indication that they'd cancel it.
On a good note – I'll be there. Check back here Sunday and Monday for recaps, photos and possibly some audio/video. Looking forward to it.