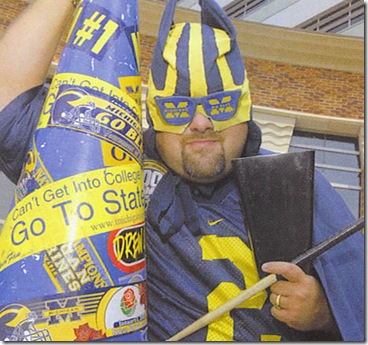 Yikes.  While don't think Jeff 'SuperFan' Holzhausen is going to abandon his uniform or cowbell anytime soon, the Michigan State loss caused SuperFan to blow a gasket that may be beyond repair:
I'm sick.  I'm disgusted.  I'm nasty and pissed off.

The honeymoon is over for me ladies and gentlemen.  Every coach compiles what I see as UNFORGIVABLE losses…and I will never…NEVER…forgive Rich Rodriguez or his staff for that absolute horsecrap game plan and team motivation…and team focus…and team execution.  Pathetic.  Rich Rod got a free pass in 2008 no matter how much that season killed me…SO COULD SOMEBODY PLEASE FREAKIN EXPLAIN TO ME WHY WE GET DOMINATED FOR MOST OF THE GAME BY A WEAK STATE DEFENSE AND WE SCORE MORE POINTS LAST YEAR WITH THREET AT THE HELM??? 

Fee pass over.  Honeymoon over.  I'm a TNT Popeye explodin' motha right now folks…I takes all I's can stands till I can't stands no more.
I'm shifting SF from 'All In' to 'Barely In' on my fan tracker. 
Hang in there SF!