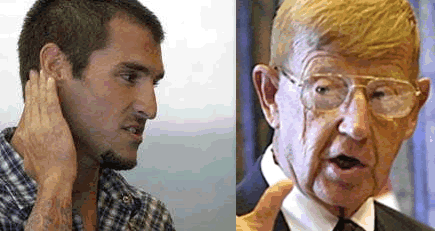 Did anyone out there hear the segment with former Nebraska stand-out and recovering drug addict Jason Peter on Jim Rome today? I caught it in the car, I'm looking for the audio to post. If you've got it please send it along.
Even if you know the story you've got to hear him tell it. In a nutshell, his younger brother Damian was a highly rated Holtz commit to Notre Dame. The summer before he was to enroll he was injured in their swimming pool and was perhaps minutes from never walking again. He eventually recovered but it ended his career. According to Peter, Holtz never called his brother once when he was in the hospital. Nothing. When his brother eventually enrolled at Notre Dame, none of the coaching staff ever approached him about the injury or offered any assistance. Me writing this doesn't do justice the passion of live interview, so I'm trying to get it for you.
I've heard a few things about Holtz and I've heard his motivational speech, I've seen some of the messes he's created and I listen to him on ESPN. All this said, there's two sides to stories like this and we really should hear what Holtz has to say.