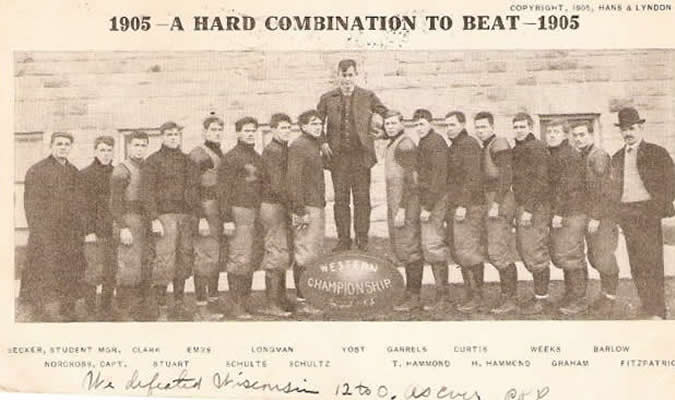 I received a few emails over the past few weeks worthy of a post, here you go:
That "Official" Michigan fanshop ….MGOBLUESHOP is terrible. They have not had any new items or updates for weeks. If you try to call the 1 877 phone number you get a prerecorded message saying the company is closed for a company holiday. Today the 1 877 phone is out of service. The university sure made a bad decision in going with this company.

Bring back the MDEN!!

– Dan
A: That's what I hear.  Since I live in the area I do my shopping locally usually at the M-Den in the mall or Moe's on campus.  Yes, MGOBLUESHOP is was the official site of U-M but note that the local shops do have an online presence including M Den, Moe Sports Shops, or even blog-friendly Underground Printing.   (Maybe they'll even advertise on these pages some day soon, sheesh!)
[Ed.  Thanks to the comment by Gina, yes, I see a release on mgoblue.com advising they are changing store partners – great news!]
I am wondering what has become of the plaque that used to be next to the entrance to the press box.  It was of Bob Ufer, commemorating his 362 consecutive radio broadcasts.  Surely it will be back at the entrance to the press box.  Please say it is there, or will be by football season.

– Warren
A: Good question.  I didn't make it over to the new press box for the Spring game.   I asked media relations directory Bruce Madej about this this week but he wasn't sure of the status of the Ufer plaque or the plans to move it.  Media gets a tour this summer I'm sure – I'll ask again.  
While I had him on the horn, I also asked Bruce about whether the "1" in the attendance, in theory the seat reserved for Fielding H Yost, would be preserved when the stadium seating is done fluctuating in a couple years.   Similar answer from Madej, he's certainly aware of the "1" tradition and this will be considered when they finalize the official attendance – but again, we're a couple years off yet.
Thought you might like this listing.  They say it's a player ring.

– Dan
A: First, thanks to the folks who have emailed me recently with interesting eBay auctions.  Indeed, appears to be a 2004 Michigan team ring on the eBay.  I emailed the seller asking for clues,  but no reply yet.  Here's a pic, looks like it sold for $1,100: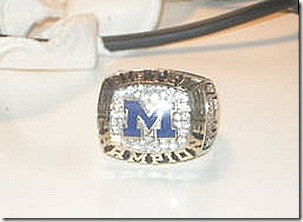 Is Brian Cook going to publish his preseason guide again this year?  Are you doing an article?  Thanks.

– Don
A: Yes indeed and Yes, unless Brian left my submission on the cutting room floor.  According to Maple Street Press, HTTV 2010 is due out in July and contains 128 packed pages.  The cover?  Maybe Brian himself this year.  I did a story on the original Big House construction – I think you'll like it.