I get a lot of great emails from readers and as you can imagine, they are usually related to history or some piece of memorabilia.   Enough over the past week to prompt a post:
Vintage Henne?
First up, a question on an item from reader Rachel:
…I picked up a football practice jersey at the garage sale on Saturday. It was different from most of the other jerseys there, and I'm curious if it's older than most of what was available. It is what i think of as 'old school maize' – that deeper goldenrod.  I know that you just covered the whole 'has maize really changed' debate, but this definitely isn't the lighter color of the last few years. It also is not Nike or Adidas – the brand is Tri County Sports, which I did Google to find out it's a local sports equipment manufacturer. It's a looser fit, very different than the current ones that stretch over pads. There is elastic at the waist and end of the sleeves. My question is if you know (or you know someone who does) when Michigan got practice jerseys from that company rather than part of their deal with Adidas or Nike. I looked at Ebay and didn't see anything similar. In the interest of full disclosure, it's #7 with no name and I guess I'm hoping i have Henne's practice jersey or something :)

Thanks for any insight you can offer
Interesting, indeed.  I contacted Tri-County Sports and they said Michigan wasn't a customer and it was probably some kind of high school jersey…which is puzzling, since Rachel got this at the U-M garage sale.  I emailed Dr. Sap and asked him—he wasn't sure what the deal was.   I asked Bobby Dylan.  I asked The Beatles.  I asked Timothy Leary, but he couldn't help me either.
I was about to give up but then – a breakthrough.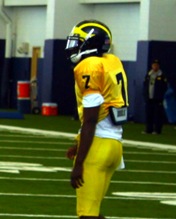 I was fortunate to bump into legendary equipment manager Jon Falk in Schembechler Hall and I asked him if he knew about the company.  He confirmed that they did indeed buy a practice jersey for a quarterback last season from Tri-County. 
I suspect they needed something Devin Gardner or another QB in a jiffy, so they contacted the local firm. 
I dug through my photo archives and found this.  Left, here's a shot of DG donning a #7 during Gator Bowl practice last year (thanks to Dr. Sap for the tip).  That just might be it.
So, Rachel–No, it's not a Henne jersey but still a cool item and certainly unique. 
Coaching Legends Line-up
From reader Michael, a great piece of memorabilia:
..I have an interesting piece that I figured you may have more info about, or that you may have seen similar items before.  I bought the item about 9 years ago, from the estate of a large donor to the football program.  It is a framed picture, taken in 1969 in Michigan Stadium.  In the picture is 5 of the head coaches from the University, Harry Kipke, Fritz Crisler, Bennie Oosterbaan, Bump Elliott, and Bo Schembechler.

…The photographer that took was C. L. Martonyi, chief photographer for the U-M Photo Services unit at the time. The picture appeared on the 1969 U-M vs. Ohio State football game program cover.  It is framed, and in excellent condition.  In addition, as you can see in the pictures, it has original signatures from each of the 5 coaches pictured.
Naturally I'm familiar with the program photo; it's one of my favorites.  But I'm not sure I've seen one framed and signed like this, very cool!  Look how nice those signatures are: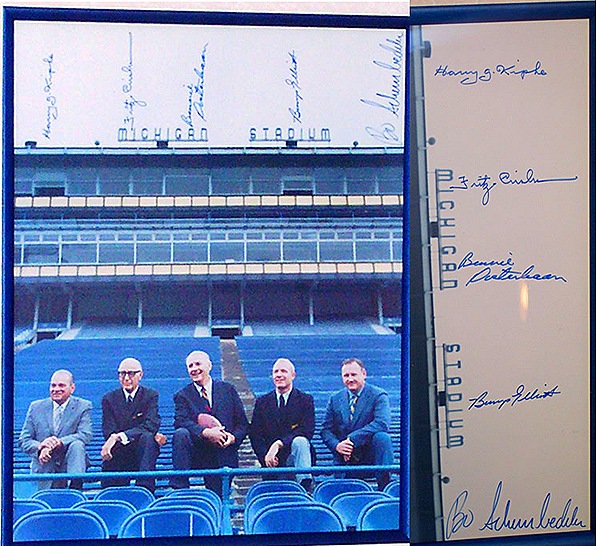 This isn't Antiques Roadshow, but I'm guessing you could fetch a good $1,000 for this beauty.
Vintage Sweater
From reader Jeff:
…some years ago, I purchased this jersey from the U of M, but I cannot figure out what it was used for or what the emblem means?  I do know that the jersey dates from about 1902 – 1906 based on the factory tag.  Does anyone have an idea what this emblem means?
I emailed author John Kryk (Natural Enemies), who knows 1902-1906 like the back of his hand, and he suggested it might be a vintage jersey from one of the club teams of that era, perhaps Engineering '06.   These clubs did create their own logos and pretty slick uniforms back then.  I scanned a few copies of the Michiganensian but couldn't spot that exact logo.  Call it a best guess.
Here's a look at the 1906 Michiganensian, of the '06 School of Engineering Football team (left), and the '07 Law School squad (right) with their logos:
This may spark a mini-series on this site. 
Check out the nerds bloggers Literary Club football squad uniforms(!):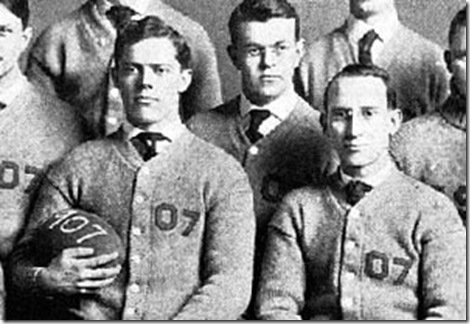 Ties???   Oh lord, the beatings and tauntings!
Follow MVictors on Twitter or MVictors Facebook Page