More mail, this time including an actual piece of USPS mail.  A big thanks to everyone for all the comments, tweets, emails and real mails lately:
An actual Helmet Sticker:  My jaw dropped when I open this piece of mail.  A former 80s-era player is a fan of the new Dr. Sap's Decals segment and sent me an actual sticker from his helmet, check this out: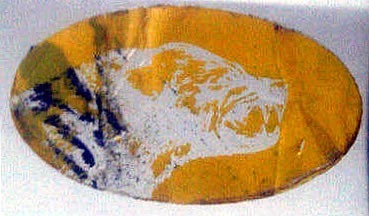 He added in his note, "Funny thing I never noticed before but it appears that the "wolverine" part of the sticker is clear so the blue of the helmet visible through the sticker."   It certainly does appear that way and that's wild.   Note the paint on left side appears to be a bit of paint that peeled off the helmet. 
For sticker sticklers, the decal measures 7/8" high and just about 1.5" wide.  A seller is offering sheets of Michigan football helmet decals on eBay right now (but the wolverine is blue, not clear, FWIW).
Griese A Good Michigan Man.  As you might guess, PR firms more and more seem to be looking to blogs and social media outlets to promote their product/cause/whatever.   Since I received four emails from these guys, I surrender, and want to let you know that Brian Griese has been awarded the 2011 Patterson Award for Excellence in Sports Philanthropy, presented each year by the Robert Wood Johnson Foundation (RWJF).  Griese won for his work with his charity Judi's House [website].  Congrats to Griese and always great to see these guys giving back.
Gerry Ford Signed Program.  From reader Gary:
I have a 1934 U of M vs. Northwestern football program.  President Ford has formally signed the cover of this Program as "Gerald R. Ford" and also has informally signed his team photo as "Gerry Ford".  The Program is in extremely good condition considering its age.   Do you have any idea as to what this Program may be worth?
First off, I'd love to see a pic (it wasn't attached) so I asked Gary to send me one.   My initial take: While I'm not an expert in Presidential autographs, I'm guessing when you toss in that he's got it signed both ways (as the distinguished gentleman, Gerald R. Ford, and as the familiar Gerry), and it's on program from Ford's senior year, man—that's got to be worth a good $500 easily, probably more.
Vintage Picture Pages.  From reader Tom who sent this along, a news clipping from the Detroit Times following the 69-0 win over Pitt in October 1947.  Nice tackle by Michigan's lineman on the Panther defender trying to get to Chappuis!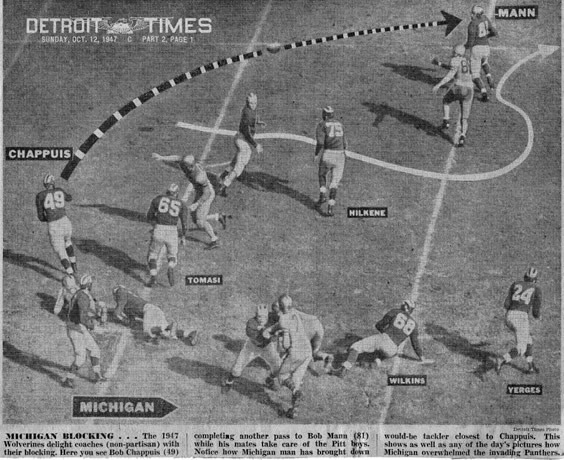 I love that they used to do these diagrammed photos back in the day.  For those who couldn't attend the game it must have been mother's milk to get these type of pics in the paper on Sunday. 
Inspiration?  Hmm, lately the Victors Club adopted a new subject line in the emails to its readers, hmmm: