[Update 1/16/2011:  Check out the 2011 version of a LEGO Horseshoe, it puts this one to shame.]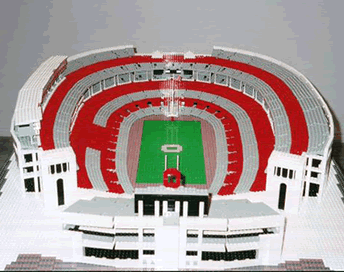 In the first shot across the bow between Buckeye and Wolverine fans, it was learned today that an OSU-backer finally achieved what nerds on both sides of the Michigan-Ohio border have been attempting for years: to construct replicas for their respective stadiums out of LEGO blocks. If you are not a fan or a nerd, this is comparable to the Russian launch of Sputnik in 1957.
According to various sources, the 1:275 scale model of Ohio Stadium took 2000 hours (what?) & 2.5 years to build and stands about 10 inches tall. We can not verify if the builder included any drunk LEGO Buckeye fans sleeping outside the stadium or peeing on the Horse Shoe walls. Rumor has it that the original owner traded this LEGO masterpiece for a 6 pack and a half-spent tin of Kodiak.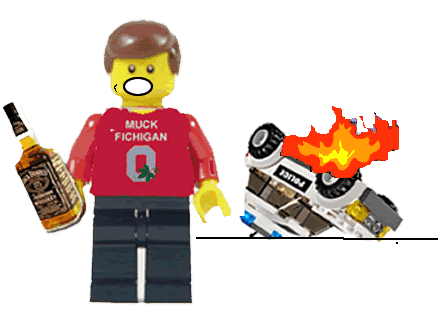 Several Wolverines are scrambling to complete their replicas before Michigan stadium undergos its renovation in 2008. The closest we've come to compete with the mini-Ohio Stadium is a (gulp) LEGO Michigan Marching band tuba player (fyi, I really found this in google images, and it really is supposed to be an M band member):