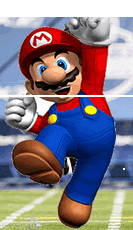 ESPN analyst Todd McShay was asked this morning on SportsCenter to list the biggest disappointment in Sunday's WR/QB/RB NFL combine. He offered up our own Mario Manningham primarily due to his poor 40 times of 4.51 and 4.59.
ESPN reported that six receivers ran sub 4.4 40s including Appalachian State's Dexter Jackson who put up the fastest time of entire combine at 4.28! Good to know that now.
Please note that this is filed under stupidity, but the brief look I had at Mario's 40 run made me think he's got to work on his technique. I assume he's had some coaching but on his first few steps off the line Manningham's toes are pointed to the sideline. The fastest guys take a few short steps out of the box, everything pointed ahead to the tape.
McShay did note that Chad Henne is making a good case for the third rated quarterback in the draft. Not a surprise.