It's seems like a simple expectation but you forget, especially in the aftermath of the Alabama and Notre Dame games, that these coaches have a track record of making players better.  You are seeing it.   The defense confident and fun to watch and they've retooled the gameplan with Denard and it's clearly working.  I'll take this stat line 24/7: 7-11, 2 TD, 0 INT.
The Manster Jake Ryan is suddenly a star.   The defense is now in the top 10 in  the country and the pass defense is ranked third.   adidas sponsored Coach Hoke's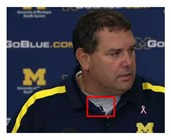 undershirt.  No word yet on the black pants (Armani doesn't make blue, people).  The Stadium Bridge is almost done.  Everything is working.
Can I nitpick?  Naturally.   I realize that Bellomy was just inserted there at the end of the first quarter, but at a minimum I would have tried to draw Illinois offside on the 4th and 1 on the goal line (and either burn a timeout or heck, take a 5 yard penalty, who cares) and I would have gone for it either way.   Yes – that seems like a silly thing to say at this point but I felt the need to prove my Michigan fandom.
The Misc:
* Ford Returns.  Once again a nice job by #1000SSS with the Legends presentation.   I'm not exactly Mr. Chatterbox in the the press box but one of my peers couldn't help but bust my chops as I was breaking down the Gerald Ford Legends hype video [ sorry, not sure how to embed #1000SSS media?] as it was playing.   A couple things that stood out:
    –They showed this old pic of POTUS #38 cradling the Meyer Morton trophy, although it's placement was a little out of order (it seems the pic was shown to be in the context of his '34 MVP and his offers to play professionally after college, but of course that honor came when he was a freshman.   Someone fetch me a director's chair and a maize beret).   If you missed it here's my post and the clipping from 1932 discussing Ford receiving the honor.
   –Willis Ward was also recognized in the video as well as the 1934 Georgia Tech game and incident and that was cool to see.  This said, my understanding is that there are still plans to honor Ward next Saturday as part of Willis Ward Day in Michigan – likely an announcement and a different video clip but we'll see. 
* Desmond Morgan.  I love this guy.  A couple deep undercover spies told me last week that #44 might turn into #48 and I think it's an outstanding choice.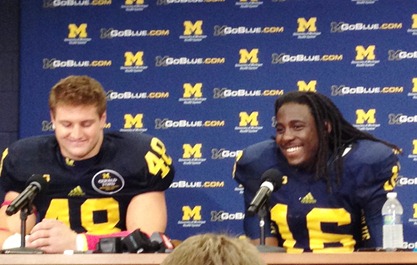 I asked Coach Hoke why he chose Morgan:
"I'll tell yeah it was very easy to choose Desmond because of his character and his integrity, because how he comes every day in our building, I think in the classroom, in the community–he is a great kid.  Really, the Grand Rapids connection really didn't have a whole lot to do with it until I felt that I was going to do it with Desmond, then it kind of clicked in."
* Lacking History.  Off the top of your head, what are some of the more historically significant games Michigan has played with Illinois?   Without taking a deep look, to me you have to go all the way back to the 1924 and 1925 Red Grange games, both played in Champaign.   Strange that an opponent we've played so often in history seems void of any truly memorable moments.  Even Minnesota (several jug games, Rickey F'in Foggie) and Indiana (Wangler to Carter) and Purdue ('64) have moments in the past four decades that are historically significant and MHC worthy.  (This does not count.)
* Form of: The Human Victory Cigar.  Pure gold! (And nice laces up top!):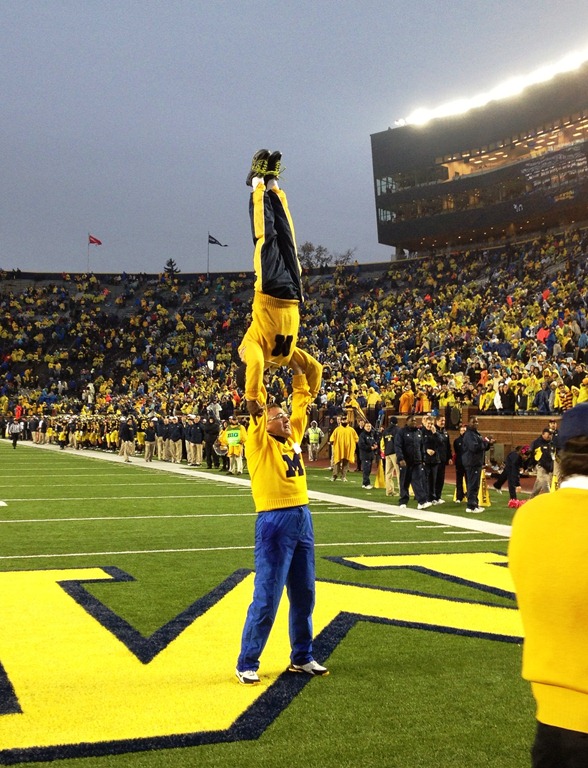 * Stadium bridge.  Looks like she's coming along and I saw some foot traffic in the fourth quarter: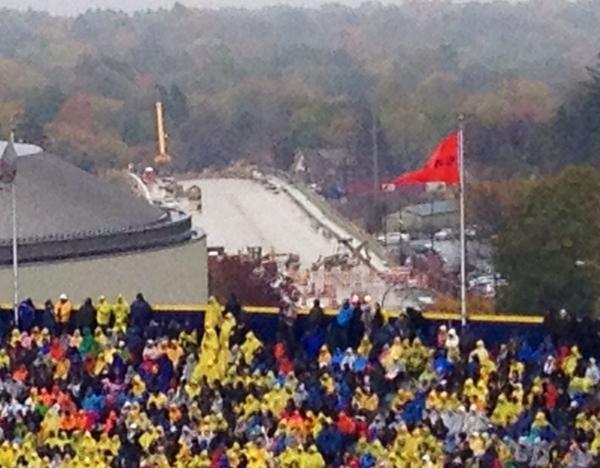 * Those Who Stay will be Lonely.   Sure, as I understand it we're on fall break but here's a look early in the third quarter right after I refilled my Timmy Horton's: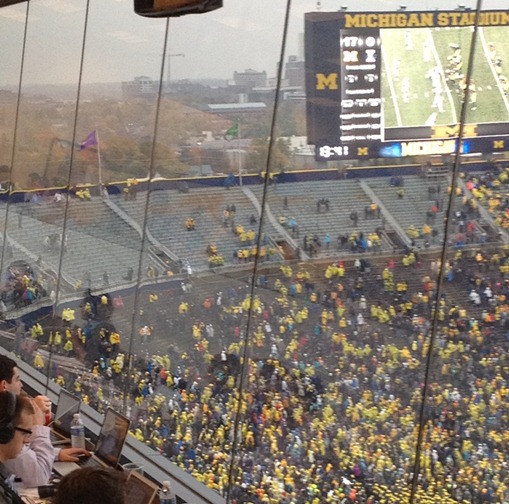 And again with about 9 minutes to go in the game.  

My take?  Having been a student, I give what these students do or don't do a lot of slack.  I don't really care if they shake keys or not.   I don't care if they stand or sit, or whether they show up on time or whether they break out in Gangnam style.  Sure – my preference would be that everyone shows up early and stays late but I get it.
Elsewhere:
Photos from umgoblue
Pics halftime from MBN and Postgame Photos from MBN
Instant analysis from Ace on mgoblog
Instant analysis from Maize N Brew
Hoover Street Rag – "Josh Furman now holds my personal record for most obvious "Yeah, that's a penalty" I have ever seen." Ditto.
Angelique on DetNews
On MVictors: