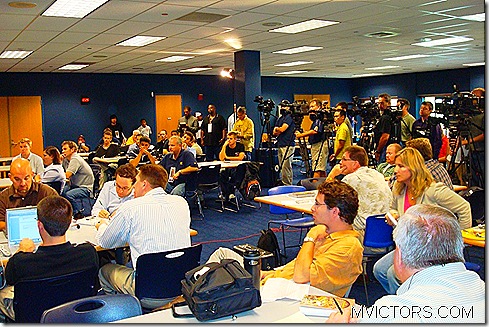 Rodriguez was peppered with questions for the first 10+ minutes of the press conference, eliciting a few jokes from RR about having plenty of other positions on the field to discuss.  A few notes on the qb-question barrage:
"Quarterback position is still wide open", and it may come down to how they perform in game conditions.
When asked if for the opener, there's a good chance each of the three quarterbacks (Sheridan, Forcier, Robinson) will take snaps, Rodriguez's answer was, "Yes.  Yeah.  In what order and how many (snaps) I couldn't tell you.  Right now all three of them look like they'll play in the opener."   I gasped.   [Update 8/24: Here's the audio]
He's not worried about having a single guy to rally around, he just wants each quarterback to get better.
He later said, when talking about freshman and freshman quarterbacks in particular, that Denard Robinson and Tate Forcier "are going to play as freshman."
Rodriguez noted that Sheridan "is battling right there with them," and noted that he's done a lot of work physically (in the weight room).
When asked who started the intra-team scrimmage held on Friday, after joking that he "didn't remember'", Rodriguez admitted that he thought Sheridan took the first rep.  [HT mgoblog, some video of yesterday's scrimmage is up on

mgoblue.com here

.]
After the official presser, Rodriguez was holding a depth chart cheat-sheet that he had on his hand.  A media member peeked at it, and joked about the quarterback position.  Rodriguez said the depth chart at QB was in order "by class".  I assume he means graduating class and not who has the most panache.  (Because that'd be Cone).
Rodriguez surely wants the command of the system like #8, the arm and confidence
of #5, the feet of #16 and the mad rapping skills of #17, the smile of #20.
Other quarterback bullets:
Both Forcier and Sheridan said they hadn't practiced sets with multiple quarterbacks in the same line-up, but neither would be surprised to see it when the season rolls around.
Sheridan's leg is feeling great.
Related:
Follow MVictors on Twitter to get posts real time along with other hilarious takes.