A tough end to a great season by Coach Steve Burns and the #14-ranked men's soccer team, falling in the sweet 16 of the NCAAs to #12 Indiana at Bloomington on Saturday night. Congratulations on an outstanding season for Burnsie & the footballers.
The final was 3-0 with the Wolverines managing just a single shot on goal. Check out who tallied the third goal for the Hoosiers: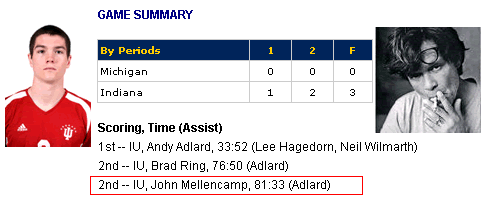 Having spent a couple years at IU I know that the Mellencamp name is pretty big in Bloomington, and I believe the famous rocker still lives outside town–here's his house; not pink and definitely not little. He's a big supporter of IU athletics and occasionally was seen court side at basketball games and donated the general purpose indoor practice facility (John Mellencamp Pavilion).
While he bears the same birth name, this John Mellencamp is the nephew of the music legend as his IU bio lists him as "born June 3, 1983, to Joe and Lynn Mellencamp" and notes that he hails from Cincinnati. When the less famous John committed to Indiana his old man couldn't resist dropping in this gem, "I don't know what it'll be like to attend a school where they already have a building named after you".