More from the gang running MGoAuction!  All of the proceeds will directly benefit University of Michigan undergraduate scholarships to help educate the future Leaders and Best. 
Bid with TOUGHNESS and bid often to support a Michigan undergraduate and Go Blue!
Check this one out, thanks to Noel for sending it over: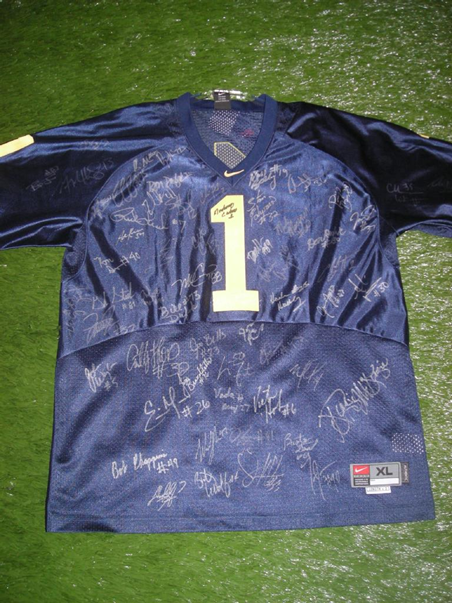 Check out the list of guys on the jersey:
Included on the jersey are all of the following:
Anthony Carter (Signed on the #1), Charles Woodson, Jake Long, Chad Henne, Elvis Grbac, Zoltan Mesko, Anthony "A-Train" Thomas, Larry Foote, Brandon Graham, Jamie Morris, Rick Leach, Jarrett Irons, Jim Brandstatter, Adrian Arrington, Reggie McKenzie, James Hall, Bob Chappuis, Vada Murray, Morgan Trent, Tim Jamison, Will Johnson, Butch Woolfolk, John Wangler, Bennie Joppru, Stevie Brown, Chris Floyd, Glen Steele, Mark Campbell, Clint Copenhaver, Aaron Shea, Scott Dresibach, Jarrod Bunch, Victor Hobson, Mark Messner, Stan Edwards, Derek Walker, Greg McMurtry, Billy Taylor, Harlan Huckleby, Don Dufek Sr., Don Dufek Jr., Bill Dufek, Ron Simpkins, Phil Brabbs, Chuck Winters, Andre Weathers, Jim Betts, Carl Diggs, Eric Mayes, Rondell Biggs, Greg Mathews, Doug Skene, David Moosman, Ron Bellamy and Adam Kraus.
Naturally the #1 is signed by you-know-who: