Turns out the WTKA afternoon show on Thursday was just as exciting as the morning show.  Michael Taylor dialed up Jeff DeFran and went off on a spittle-filled rant, furious about the hiring of Curt Mallory over Taylor's preference Corwin Brown.  Clip:
Taylor on Corwin Brown
Play Now
|
Play in Popup
|
Download
.
Obviously Taylor knows something about the matter and has been in touch with Brown, who Taylor says is "hurt".   The former M quarterback more than implies race was a factor in the hire and he's pissed.
One point – Taylor goes on and on about supporting Michigan letterman and how there's a recent history of the administration spitting in the face of letterman.  Of course Mallory is a letterman.  And did you know that Brown, Taylor and Mallory were teammates on the 1989 squad, Bo's last season?

I like Taylor's contributions to WTKA – on Sunday (where has he been?) and with the occasional phone call.   One thing I always struggle with is Michael's oft-repeated stance that his status as a letterman/former football player provides him the trump card over anyone's opinion in all matters pertaining to U-M football.  Come on.
Speaking of qualifications [nice segue] I'm disqualified from commenting on Mallory vs. Brown since I joined a band of ten merry, pickled students who spelled C-O-R-N-F-L-A-K-E-S on our chests back at a game in 1992.  (Shout out to K's, D Henry, Rogie, Hanrath, Bolick, Bonus, Delehant).
For the record no chest hairs were harmed in this exercise and we fared better than these cats: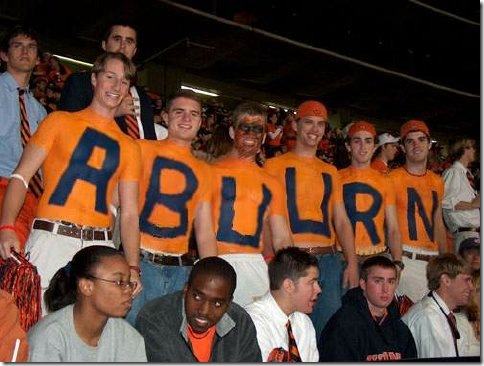 Tide fans say 'BUURRRN!'   Is that WBE Jerry on the end?