Looks like at least a few folks at the athletic department agreed with my analysis on the score of the 1909 game against Syracuse.  Back in March, I discovered (while researching a piece for Brian Cook's HTTV 2009) that it appeared as though the official score of the October 30, 1909 tilt should have gave Michigan forty-four points in the contest.  The Michigan Daily noted that the scorekeeper inadvertently failed to tally one of the Wolverines' extra points.
I just checked the Bentley Library record for the season and it's been changed with a footnote: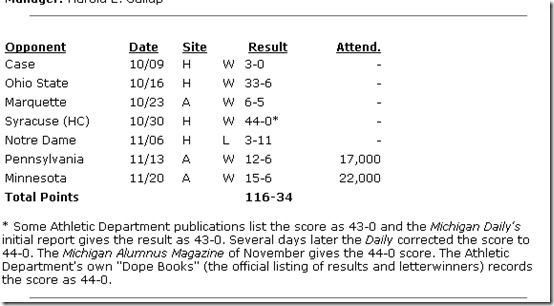 As silly as this seems, I love it.  It looks like the great archivist at the Bentley, Greg Kinney, took the research a bit further digging into the "Dope Books" and Michigan Alumnus.  Thanks for Kinney for following up on this.    It means much to yours truly.
Here's the entire original post, reprinted, explaining my take on the matter:
I've made a couple trips over to the Bentley Library researching a story on the 1909 season. I'll probably have more on that later. But in between digging through the Michigan Daily archives, letters and contracts from the athletic department, and of course the online records, I uncovered a little oddity concerning the '09 season.

According to the Bentley web page for the 1909 season, and this link from mgoblue.com which lists Michigan's all-time record against opponents,  the official final score of the Syracuse game played October 30, 1909 at Ferry Field was Michigan 43, Syracuse 0:

So that's the published word on the game from the top two sources from the University.   But a little digging revealed some sources that differ.

Check this out.  An article in the of the New York Times from 1914 lists Michigan's results against eastern opponents, and shows the result of the 1909 game as 44-0:

Further, John Kyrk's wonderful book Natural Enemies, the history of the Notre Dame-Michigan rivalry, makes a short reference to the game with the same final result:

The Orangemen were supposed to have presented a stiff challenge, but Michigan surprised the Eastern folk by crushing Syracuse 44-0.

Finally, back to a University-published source, the U-M yearbook (Michiganensian) for 1910 recapped the season and made two references to the 44 point final tally, including this summary of the 1909 gridiron campaign on page 222:

If you handed me the above references, I guess I'd lean toward the forty-four score. The official Michigan sites clearly have a lot of weight, but one error could have rippled through to all the U-M affiliated sites. When you have the Michiganensian from 1910 having the higher score and backed up by the Kryk's work (the book is meticulously researched) and top it off with the NY Times, if nothing else you've got to question the 43-0 score.

Thankfully the Bentley has an extensive archive collection of the Michigan Daily, which was first published back in 1890.  Here's the headline on October 31, 1909, the day after the game:

So…case closed, right?  But this doesn't explain why the other sources have the score listed as 44-0.

That is, until I looked a couple days later in the Michigan Daily and found this headline:


The article explains a scoring error that occurred at the end of the game:

Michigan defeated Syracuse by a score of 44 to 0 instead of the 43 that was originally reported. The mistake resulted from a failure of the scorer to credit Michigan with an extra point after Referee Fultz and Field Judge Booth had both declared that Allerdice had kicked goal after Wells' touchdown, the last one of the game. This credits Allerdice with kicking six out of seven goals instead of five.

I took the matter up with Greg Kinney at the Bentley Library.   He said the Bentley scores are fed from the athletic department and suggested the matter would need to be taken up with the folks in media relations.   Usually in a case like this, Kinney advised, they'll add an asterisk by the score with an explanation (see the result of the Stevens Institute game back in 1883).

Here's my suggestion:

Change the score to 44-0
Add an asterisk noting that, at the end of the game, the scoreboard showed 43-0.
Issue me a varsity 'M' for scoring a point.*

* Or a Varsity 'N' for being a complete nerd