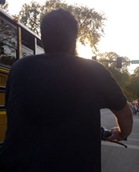 What a great night in Evanston and props to the throngs of Michigan fans who made the trip, many of whom blew my doors off on I-94 topping 95 MPH.  
After parking several blocks from the stadium, I was running a tad late so I flagged your typical pregame rickshaw driver and cruised to the stadium in style (left).
OK, maybe it wasn't the best idea as something smelled funny back there and I got ruined by a few of the pickled fans as I cruised by.  But I shaved off a couple minutes and dude, it was hot.
For a small stadium, boy, it was a bear getting in.  Lines to get into your gate were brutally long and the press box elevators were jammed.
As far as the ballgame, a few thoughts:
Don't you feel like, for the first time in a long while, that Michigan clearly has the advantage in coordinators?  While there is room for improvement, it's a blast to see Borges tinker around with Denard and Gardner, and the defense has rattled several quarterbacks this season and has clearly improved.  The team seems to get better as the game goes on.
Speaking a Gardner, I love see him getting snaps and building confidence.  While Denard hasn't been dinged up as much as he was last year (not sure why—he seems like he's just as active running the ball?) you know Gardner is going to have to play during a significant stretch or two like he did this week.
On defense, it's so good to see guys making holding contain on the outside and getting in position, settling their feet and making tackles.  Yes, a few guys over-pursued BADLY in the first half, but in general, these guys really are tackling well.    I have to look at the film but Thomas Gordon stood out on several plays.
I'm guessing they wouldn't have had enough evidence to overturn Hawthorne's interception either way.  If they called it incomplete on the field, I think that would have stood up.  The Northwestern folks in the press box were convinced (vocally) that it should have been overturned.  Oh well.   And I think the fumble proved to be out before the knee hit but it was close, again, maybe if it wasn't call that way on the field they would have let the play on the field stand.
I think we all accept that you have to toss out your conventional understanding of what a quarterback should do when you've got Denard, but man, some of those throws in the first half…yeessh.   Until he proves to be more effective throwing the pigskin there's just no way this is a top 10 team. 
The errant passes yielded one nice perk—it gave you a look at Vincent Smith's tackling skills.  He made solo tackles on the first two picks and they were nice.  #toughness!
The Misc:
Jersey Reversion.  I got a few emails and tweets just like this from reader Nick:
Any chance you can ask Jon Falk about why the d-lineman (namely Roh,
van Bergen, Martin, and Campbell that I can remember) are all wearing
last year's road jersey w/ the maize side stripe tonight in Evanston?
Thanks and Go Blue!

Looks like Denard has the striped version on as well, at least at the end of the game, and notice the other guys don't:

 

I have no idea.   I reached out to Dr. Sap for his take so we'll see what he comes up with.  He initially suggested it might be a fit/feel thing for the lineman.  As far as reaching out to Jon Falk, I generally lay off badgering him about uniform minutia mid-season but maybe I'll ask media relations.  [Update: a spy tells me that the d lineman feel that the 2011 jerseys are too easy to grab, thus they went with the older style.  We'll see if that's fixed next week!]  [Update #2:  Per media relations, this was more of a function of the players reverting to their "backup" jerseys after the regular unis suffered some rips.]

Golf Clapping, Maybe.   They make an announcement each week in the Michigan press box "…a reminder that this is a working press box, no cheering allowed..".   I didn't hear that announcement and there was clearly some clapping going on by a few guys who appeared to work for the University.  I don't care really (it might be more fun if people were cheering), I'm just saying it was different.
Two #1 Throwbacks.  Former WR David Terrell donning the limited edition #1 throwback:
Purple Chill.  This nice couple apparently won the raffle and got to chill out in purplicious La-Z-Boys in one of the Michigan-dominated corners of the stadium.   Congrats, you won a front row seat to the 2nd half beat down while being heckled relentless by thousands of visiting fans: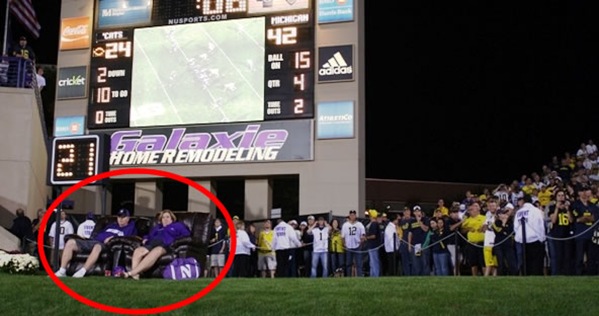 Not Heckled.  The folks got a nice view of the final touchdown of the game.  And #16 even went up and paid a quick visit to the faithful: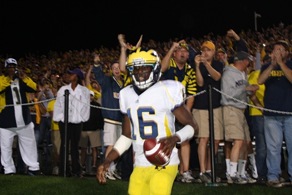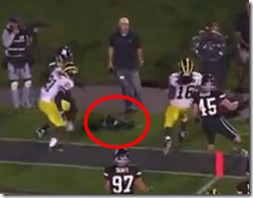 Denard scored and skipped past the only thing that nearly tripped him up on the play—my backpack with my PC and gear.   When I checked to make sure my laptop wasn't damaged, I noticed all Denard apparently applied all the latest hotfixes and patches as he passed by.  Dang he's fast!
Get Honor.  The Otto Graham Honor Roll, nicely done.  But I like the Michigan Legend concept better: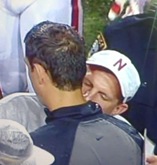 Bo Bites.  It was wild hearing later that Nebraska came back and beat Ohio State. 
And even wilder was that postgame handshake, as I think Bo Pelini went in to whisper something but Fickell just kept moving. 
Chomp!