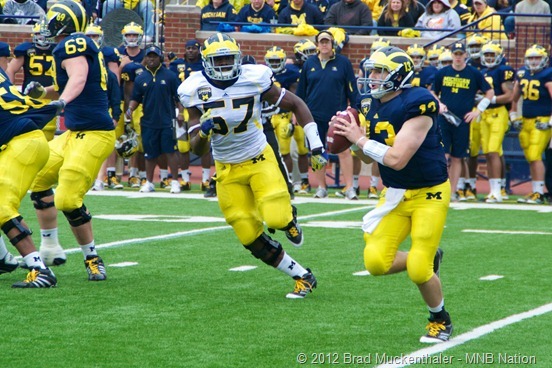 Maize Laces – Thanks to Brad of Maize & Blue Nation for sharing this beauty
Official Release:
Mott Spring Game by PNC Bank Slated for April 13 at Michigan Stadium

ANN ARBOR – The 2013 Mott Spring Game presented by PNC Bank in partnership with Michigan Athletics will be held at Michigan Stadium on Saturday, April 13. The Spring Game is free to the public and Team 134 is set to take the field at approximately 12:30 p.m. EDT.

The gates to the Big House will open at 10 a.m., as events will surround the football team's final spring practice.

The fifth annual alumni flag football game is scheduled to begin at 11 a.m., while Michigan's men's lacrosse team will face Ohio State, tentatively to begin at 3:30 p.m.

Full details surrounding the Spring Game and the men's lacrosse contest are still to come and will be updated on MGoBlue.com.
Follow MVictors on Twitter