Yes.  I have various Google Alerts set and as you can guess my home security alarm goes off if there are any breaking news stories about Michigan and The Little Brown Jug.  This came over the wire yesterday, excerpt:
Michigan returns to the court this weekend with a pair of matches at the Varsity Tennis Center. The Wolverines host Minnesota in the two teams' second meeting of the season this Saturday (March 27) and then Iowa on Sunday (March 28). The match against Minnesota will be for the Little Brown Jug, which the Golden Gophers currently own. Both matches will start at noon.
What?
I contacted Brad Rudner from U-M Media Relations to get the skinny:
The Jug has been contested since the 2006 season. Each team has two wins. Today's match will be the fifth meeting for the Jug. The complete series is below:
2006: 5-2, Minnesota
2007: 5-2, Michigan
2008: 5-2, Michigan
2009: 4-3, Minnesota
Rudner also noted that while Michigan defeated the Gophers earlier this season, they kept the crock, "because the match did not count towards the Big Ten records for each team."
So is there an actual jug?  Of course.  Photo courtesy of Rudner via his iPhone: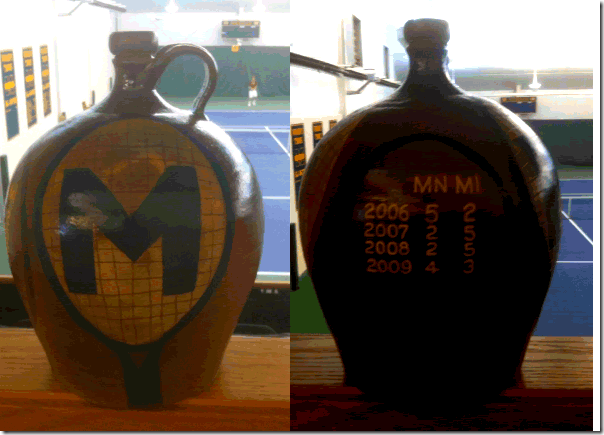 You can watch the hardcourt battle for the jug Live here!
Related: The Little Brown Jug lore series:
Part I: What Really Happened in the 1930s
Part II: Spinning Myths
Part III: Getting it Right
Part IV: 2013: A Space Quandary
Part V: Red Wing Roots
Part VI: Is the Greatest Trophy in College Sports a Fake?
Part VII: Open Questions