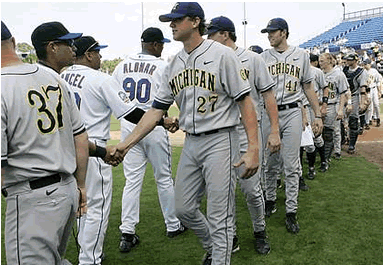 Hilarious stuff is coming through on the Wolverine exhibition game with the New York Mets. You may know that the teams tied 4-4 after a late Mets rally. What you may not have seen is that someone forgot to tell our boys in Blue that this wasn't a real game.
Apparently my main man Kevin Cislo tried to lay down a bunt to advance a runner in the 4th, and I guess that violates one of the countless unwritten rules of etiquette in baseball. Here's the description from Newsday:
Forget the Phillies. Billy Wagner nearly started a beanball war with the University of Michigan after one overzealous Wolverine tried to bunt on him in the fourth inning. With a runner on second and one out, centerfielder Kevin Cislo pushed his bunt foul. Wagner, clearly annoyed, shook his head a number of times, and Cislo wisely swung away, grounding out. Wagner said he couldn't believe that Cislo, a junior, bunted.

"If he got that bunt down, I would have drilled the next guy," Wagner said. "Play to win against Villanova."

Asked about Wagner's reaction, manager Willie Randolph laughed. "He couldn't bring himself to drill the kid," Randolph said. " Nolan Ryan might have. Nolan or Roger [Clemens] may have done it, kid or not."

While the Mets viewed the game as their preseason tuneup, Michigan was fired up, and Randolph mentioned that all the Wolverines' chatter "– me off a little bit."
This is so beautiful. Putting down a bunt AND a bit of infield chatter? I love it.
This incident has caught some national coverage, obviously in the New York papers but the incident was also reset in the first hour of Jim Rome's radio show today. I'm looking for audio from the Rome Show.
UPDATE 2/27: MLive picked this up as well.
UPDATE II 2/27: While I don't have the audio yet from today's Jim Rome Show, he did post his thoughts on the topic on his website. He sides with the Mets and Billy Wagner on this and feels that Cislo crossed the line. Here's the full Rome take.
UPDATE III 2/28: From Lew: Here's another good piece from the New York times (without any liberal bias!) about the collegiate atmosphere of the game. Apparently, Mets hitting coach (and former Tiger) Howard Johnson was doing the Gator Chomp in the dugout while The Victors was playing before the game started [full article]