If you turned the Gary Danielson comparisons of Tim Tebow and the Florida offense to Bronko Nagurski into a drinking game, congrats, you're drunk and hopefully you were adequately numb as the final few references were uttered.
If any good came out of this, it gave me a chance to open up the history books. The Canadian born Nagurski played his college days at Minnesota from 1927-1929. As if to get the upper hand on Danielson's blow hole, I wanted to see if Michigan put a beating on Nagurski as they did with Tebow last season and thus sleep a little better tonight.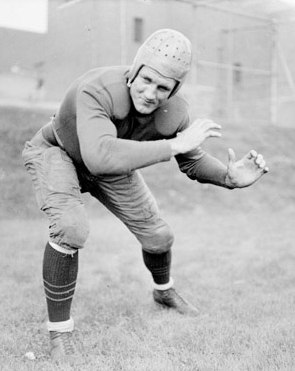 While Nagurski's Gophers beat Michigan in 1927 (his first year of eligibility) the legendary Bronko did not play a significant role on the conference championship team, according to his college football hall of fame profile, just seeing limited action at tackle. His role on the team picked up in 1928 but our teams did not meet.
The pinnacle of Nagurski's collegiate career was 1929 when he was named a consensus All-American. On November 16 of that season new coach Harry Kipke and the M men traveled to Minnesota and returned with the Little Brown Jug after edging the Gophers 7-6 in front of a homecoming crowd of 58,000. This was the only home loss suffered by any of Nagurski's Minnesota teams.
Trivia:
– The man had an interesting life after a storied career for George Halas' Chicago Bears and parlayed his popularity on the gridiron into to a successful career in pro wrestling.
– He also was one sausage-finger-having fella, his NFL championship ring is said to be size 19 1/2.
– He was immortalized by CBS color man Gary Danielson after being mentioned 16 times during the 2008 SEC Championship game.
– Bronko Nagurski, Jr. played for Notre Dame and later in the CFL.
–