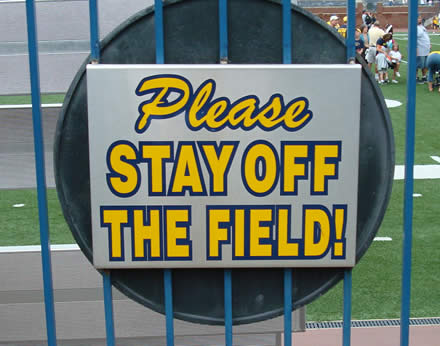 Update: It's going to be 8/17, more info here.
At the 2008 Michigan spring game, Rich Rodriguez was asked by an M blogger whether there'd be an opportunity to meet the players this year a la' the Fan Day events during the past few seasons. Coach Rod said there would be something in August, in conjunction with the team picture day. He also mentioned the possibility of something else during the summer but that ain't going to happen. Here's the short audio clip from the spring game presser:
Rich Rod on Fan Day
Play Now
|
Play in Popup
|
Download
There hasn't been an announcement yet but that's not unusual. Scrolling through the press releases from last year it looks like the Fan Day was announced a couple weeks before it was held on August 25, 2007.
I lobbed a call in media relations and asked about if this was going to happen. In Fort Schembechler form, the short answer I received was 'maybe, no announcement yet'. I asked about where it would be held if it were a go, again, really nothing except for they'd have to see what facilities are available.
My sense is that this is a go (it'd be foolish not to, especially after closing the spring game), it's just a matter of making it official.
Update: After posting this I got a note from Bruce Madej who wrote, "We will have an announcement sometime in the next 2 weeks. We are dealing with logistical issues due to stadium construction."
Related: Fan Day 2007: Mallett Mayhem