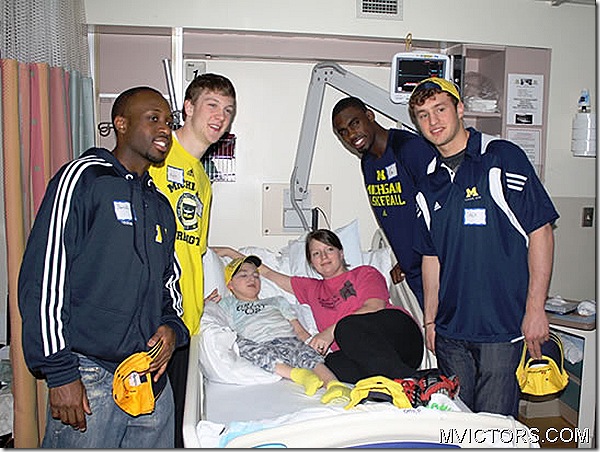 A few fellas from the hoops team up at Mott recently
If you missed my RADIO BLITZ this morning, I joined the great Lucy Ann Lance on 1290 WLBY just after 8am, and then popped into the studio with Sam and Ira on the Michigan Insider for a segment around 8:30am.   The topic?
Primarily the Mott 'Michigan From the Heart' program which (among other things) arranges for the hospital visits by U-M athletes to the kids and their families at Mott.  I spoke about the origins of the program back in 1991, and about my recent visit to the hospital to watch the student athletes in action with the kids.
Did you know the program has it roots back in 1991?  Did you know that Desmond (Magic) Howard had a role in its founding?  Did you know it's a 100% volunteer-run non-profit organization? Do you know the Michigan hoops and in particular the Fab Five was heavily involved at the beginning (and many of the guys are still today)?   Do you know how you can ensure this program continues for decades to come?
Here's the WTKA segment – check it out:
WTKA MVictors Mott From the Heart
Play Now
|
Play in Popup
|
Download
More:
* For info on the Sunday June 5, 2011 Michigan From the Heart Golf Outing at the U-M Golf Course, go to their dedicated website here.
* Want to donate or get  involved with the program?  Click here!
* Buy one of the great shirts from my friends at Moe's and Underground printing – proceeds help MFTH:

Go Blue and Go Mott!