Anyone out there have this style jacket in their collection?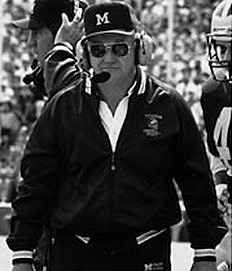 I assume we don't need the actual coaching staff jacket, just this exact style (assume Nike-issued, mid- to late-80s). If you think you have it or know someone, let me know.
Speaking of gear, all you uniform nerds (like me) should know the annual athletic department garage sale is coming up- Friday, July 19th. Details:
The department garage sale of used apparel will be held on Friday, July 19, from 9 a.m.-3 p.m. at the U-M Indoor Track Building. Items for sale at the department garage sale will include football jerseys, T-shirts, hats, balls, jackets and other merchandise. Cash and credit cards will be accepted. The U-M Indoor Track Building is located just beyond the rightfield fence of Michigan's baseball field.
Follow MVictors on Twitter