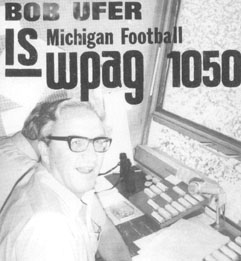 Remembering Bob Ufer
Recognizing the legendary Michigan Man 25 years since we lost him
ANN ARBOR MICHIGAN OCTOBER 26, 2006 I learned today on WTKA 1050AM that this marks the 25th anniversary of the day we lost the legendary Michigan broadcaster Bob Ufer. He truly was one of a kind. Hated by our rivals, loved by everyone from children to the elderly, his memory goes on in the tapes, DVDs, and even mp3s out there that reset his classic broadcasts. Judging from the phone call today into the radio show, he made a strong impact on many of the folks around this community. Here's a website dedicated to people's favorite memories of Ufer.
He is of course most known for his radio career, and many know that Ufer lettered in track for the Wolverines. Did you know:
-Bob Ufer grew up in Mt. Lebanon, Pa., a suburb of Pittsburgh.
-Ufer played freshman football at Michigan in 1939.
-Ufer excelled at Track & Field at Michigan. He broke numerous Michigan records and, in 1942, shattered the World Indoor record in the 440 meters. It stood for 5 years. At one time he held 8 Michigan track records. He was certainly a candidate for the Olympics had World War II not canceled the games in 1940 and 1944.
-In 1946, a year after he began broadcasting Michigan football games on WPAG-AM in Ann Arbor, Ufer came down with ulcerated colitis. Doctors ordered him to give up his broadcasting career. He agreed on the condition that he could continue to call U-M football games.
-The last U-M football game Ufer broadcast was against Iowa on October 17, 1981. He died 9 days later. On that day, the band spelled out "UFER" on the field, and Mr. Ufer addressed the entire crowd from the PA system, leading them in a rendition of 'The Victors'.
-A movie script has been written and sold about Ufer's life. Who knows, maybe we'll see this on the big screen one day, with a premier at the Michigan Theater.
-WTKA 1050 still occasionally replays old entire game broadcasts of Ufer's calls of old games.