Here's the only pic I could find with something on Brady Hoke's head other than a headset, and I'm positive pretty sure it was Photoshopped: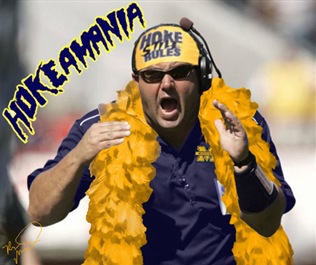 Some guys don't like to wear hats or visors, I get that.  My buddy Scotty Mudbowl has a small coconut and lids make him look like a little kid.  Some fellers with big heads (me) have trouble finding a hat that is comfortable (yes, even the adjustable ones).  Hoke clearly doesn't have the pea head issue so I'm guessing it's a comfort thing.
It may seem like a silly question but I'm guessing the topic has come up once or twice behind closed doors on State Street.  Adidas sells a lot of hats and as you recall, we all made a fuss over a couple special edition hats Rich Rod wore last season (in support of the troops and the fight against breast cancer) that I'm guessing sold big time.  Fans want to own the hat that the coach wears.
There's also a historical element here, but it's certainly far from a Michigan "tradition".  Just about every Michigan coach wore a hat on the sidelines: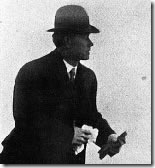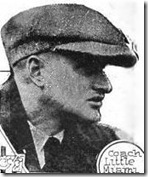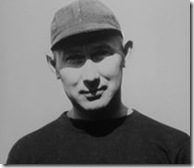 Fielding Yost in 1905, George Little (from his Miami, OH days, but we'll go with it), Tad Wieman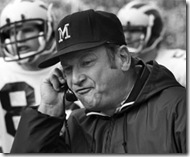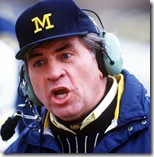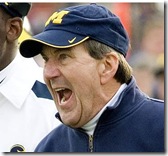 Bo's ordering a new Fridge from France ("..and this one better F-ing work!")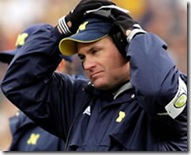 As far as men without hats, I believe Lloyd was occasionally spotted lidless at the beginning of his coaching career.   The one coach not in the montage above is Bump Elliott, who definitely did not wear a lid during portions of his coaching tenure…(left, from 1960, right from 1959)  
..but he's also one of the first coaches* to don the famous 'M' hat, here with my man and '64 captain Jim Conley: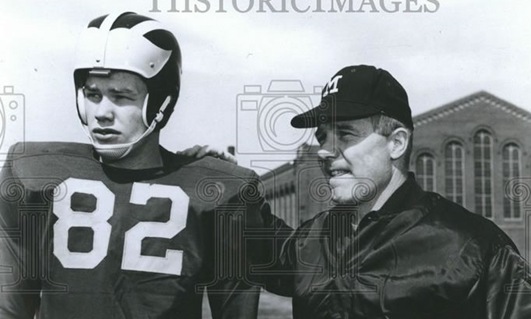 I haven't asked coach Hoke the hat question but I think he'll be headset-only come kick-off next Saturday.   I asked Dave Ablauf of media relations at Media Day & he suggested we'd all find out on September 3rd.
P.S. For those looking for a vintage Bo-style hat, Moe's has them.
* thanks for Dennis Dail for sending the shot of Oosterbaan wearing an 'M' hat.
Follow MVictors on Twitter