It's always great to catch up with former Michigan players. I recently chatted with Captain Michael Tilmann II, defensive back for Coach Moeller from 1991-1993. While his playing career was hampered by two knee surgeries, he went on to found Tilmann Outfitters, a premium vacation and fishing charter service out of beautiful Manistee, Michigan. He's highly regarded in fishing circles and has hosted several shows on The Outdoor Channel. He was kind enough to speak with me:
What are some of your best memories of your playing days?
Tilmann: You mean the best memories that I can share?! It'd have to be having Bo come to speak to us before big games such as the Rose Bowls, Notre Dame, and of course against Ohio State. The respect he commanded when he walked into the full team meeting room was unmatched! As far as the games, the highlights were the '92 and '93 Rose Bowls, each against Washington. We lost the first with Elvis but won the second with Todd Collins. Here's a photo from Pasadena on the sideline with Bo: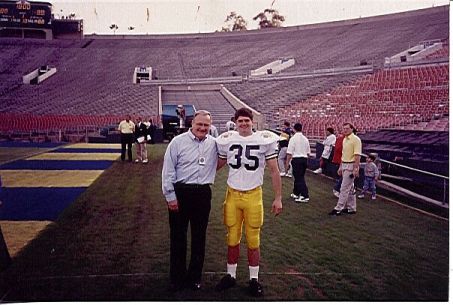 Have you always wanted to be a fisherman?Tilmann: Yes, I've always loved to fish and this has been a lifelong dream of mine. That said, I'm proud to say I received my BS in Education. I am a teacher first and foremost, but have always been a sportsman. I'll always be thankful to the M Club of Greater Detroit for helping me complete my degree.
Have you taken any former coaches/players on charters?
Tilmann: Definitely. When I was playing I took Coaches Carr and Hermann out on the Au Sable river. We all had a great time!
What are some of your favorite moments out on the water?
Tilmann: The great moments fishing are plentiful. Every time I have a customer land the big fish we chase, their expressions are worth a 1000 words! Also having youngsters land the biggest fish of their life is always special. It is my hope to get the kids out and get them hooked on the outdoors. My father use to always say "if my kids are out hunting and fishing, I don't have to go out hunting and fishing for my kids!" I believe that.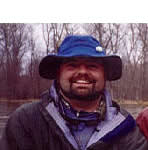 How did you hook up with the Outdoor Channel?
Tilmann: I always enjoyed Steve Gruber's work on the Outdoor Channel so I invited him to come to Manistee. He was very interested and decided to film a show on the river – it was a great show! From there he came up and we hit Lake Michigan, once again we had a great day which made for another wonderful show. Gruber thought they went so well that he has asked me to host some shows for him. To date I have been on Outdoor Channel four times in the Bahamas fishing for Bonefish, Tarpon, and Mahi-Mahi. It's great fun. I also did one going after Musky and landed a 38 pound, 53 inch monster although it hasn't aired yet. And fans should know that I like to wear my block M hat on these shows!
Here's a clip of one of the original shows on Captain Michael's own personal Big House…Lake Michigan off the coast of Manistee:

When is the best time for a fishing charter?
Tilmann: For most people the best time to hit the big lake is the summer months (June-August). August is the time when the King Salmon are the closest to shore staging for their fall spawning run, so that's always an exciting time. But it depends on what you're looking for. Tilmann Outfitters also provides a guide service on the local rivers. There are fish in the river September through May. We find the Steelhead spawning in March and April so there's always large number of fish to find. So I guess whenever you can get here is the best time!
A final question back to football. As a former M man, what do you think of the hire of Coach Rod?
Tilmann: When tackling this I must first say that I am a huge fan of Coach Carr. He was my defensive coordinator when I was there and father like figure when I needed it the most! However, it is beating Ohio State that is on all of our minds all the time. Coach Rod, let's GIT-R DONE! I was very impressed with the Capital One bowl game this year and liked what I saw with the wide-open offense. I'm hoping the spread attack is going to stir up the Big Ten. I guess the big question mark for me is the defensive coordinator? When I was there we had a sign in the building that read, "Offense wins games, defense wins Championships! We must get that done! My best wishes to Coach Rod, good luck on your chores ahead and Go Blue!!
If you're man enough to battle the fish of Lake Michigan or the area rivers, Check out Tilmann Outfitters. And tell them MVictors sent you!
On the Web: Tilmann Outfitters
Or call: 231-510-9345