Showdown at the Big House on Saturday
SALINE, MI NOVEMBER 17, 2003 Suddenly the Michigan Wolverines look like the team they thought they were after destroying Notre Dame. The Northwestern Wildcats could do little to stop the offense that attacked from all sides, and a defense that rendered the Wildcats' gimmicky offense feeble. With a win against the Ohio State Luckeyes on Saturday, M will at worst head back to Pasadena.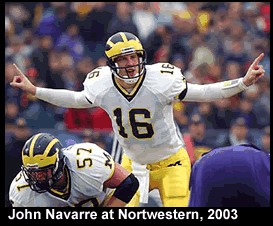 QB John Navarre must have been feeling it, as he is seen left awkwardly breaking out a little taste of "The Bird", perhaps paying homage to Dools and Lew's last trip to the Rose Bowl where one evening was spent taking in a concert by Morris Day and The Time at the House of Blues.