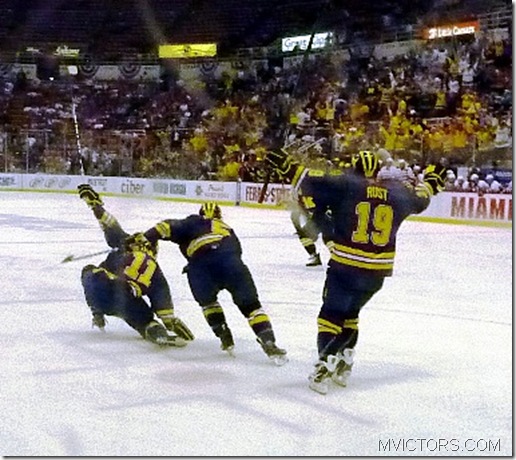 Yeeees! Lynch after U-M goes up 5-1  Photo: me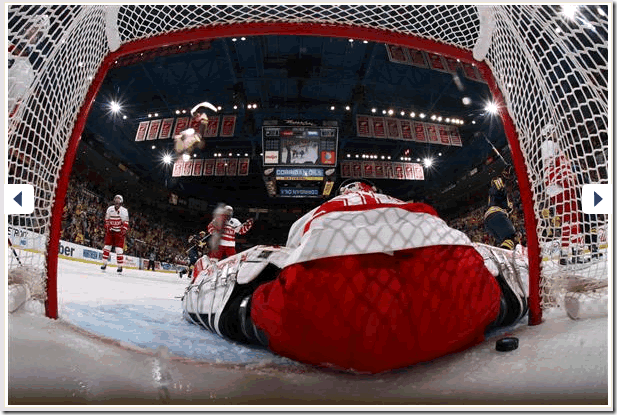 photo: CCHA.com 
Damn we needed this one and we got it.   Kind of last minute I made it down to the Joe for the big one versus CCHA powerhouse Miami, OH and it was worth it.  The 5-2 win puts Red and crew on the brink of a NCAA tourney bid.   A win in the finals over Northern Michigan will do it, and every unit is fully engaged right now and firing.  Michigan really outworked Miami, who obviously have less incentive here as their tourney bid was sealed up weeks ago.
Here's an example of Michigan feeling it.  Check out these stills Lynch's 2nd goal to put Michigan up 5-1 in the third period: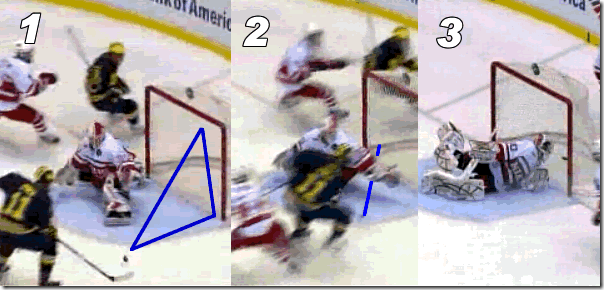 In still (1), the puck slides across to Lynch who's got mucho real estate for a shot.  He could have merely flicked it or pushed it to the right side of the net and probably would have lit the lamp.  Earlier this season Lynch goes right and the puck ends up in the glove.  But he didn't tonight.   Rolling in at a high clip he actually settled for a split second and instead (2) slid the puck under the goalie glove and into the left side of the net.  (3) Horn sounds, crowd erupts, Lynch celebrates and the sieve is pulled for Jason Voorhees.  Feeling it.
At-Large?
In case you're wondering there'll be no at-large bid.  I understand there's a lot at play in the formula but, umm…Michigan dropped in the latest PairWise Rankings from tied for 16th to 19th (!).   And moved behind Michigan State (18)?   Whatever.
Tomorrow's game is huge but for now let's enjoy tonight. 
I gripped some stubs from exiting (and very kind) Northern Michigan fans to supplement my general admission tickets, and managed to make it down right to the boards for the second and third periods.   
What a great night, so please enjoy a few photos:
About 1/3 full and of those, 90% Michigan fans: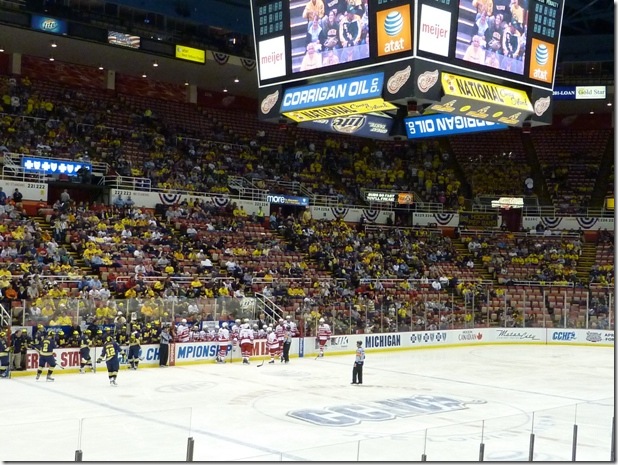 This happened early in the game, I'm not exactly what happened but the ref got dinged: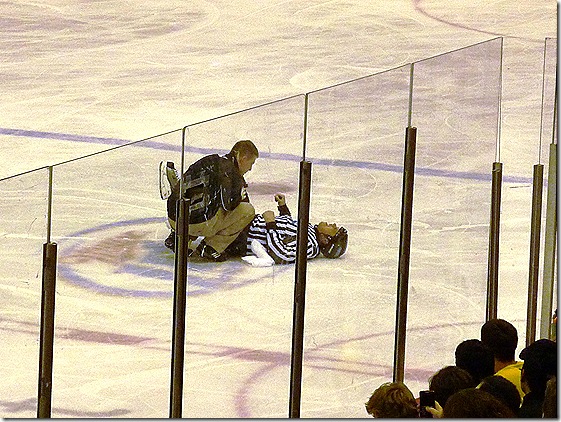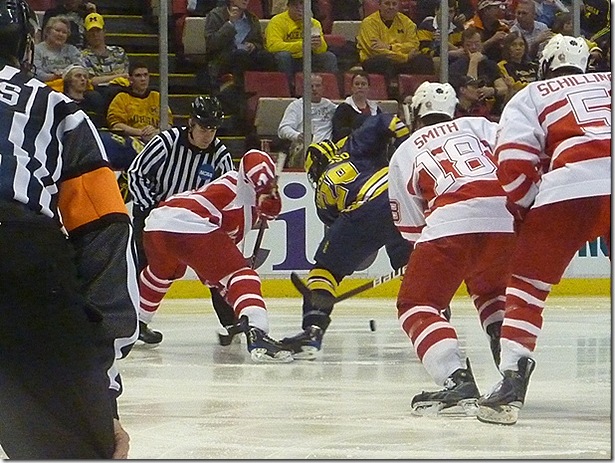 Who wants it more?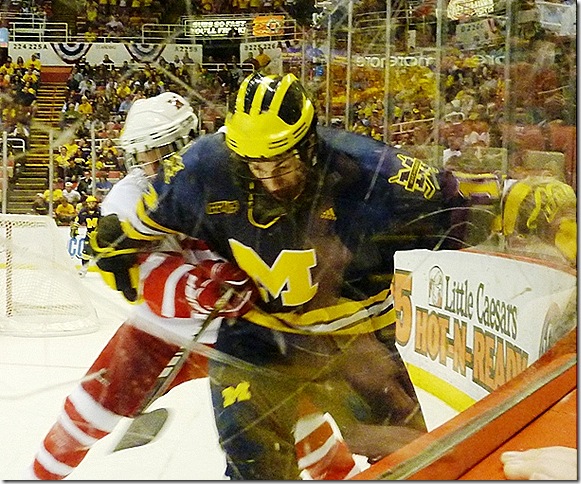 Moffie scores, beautiful bang-bang breakaway: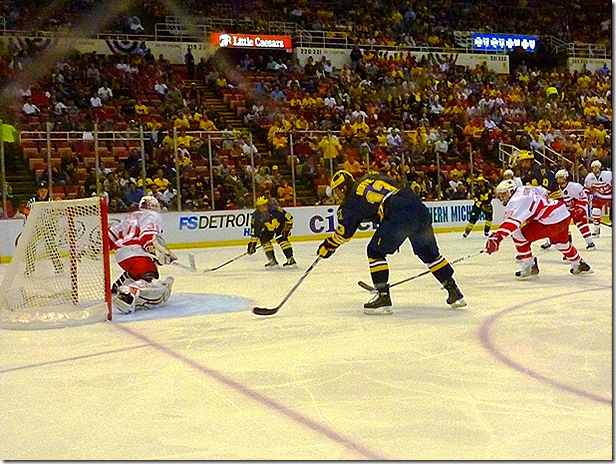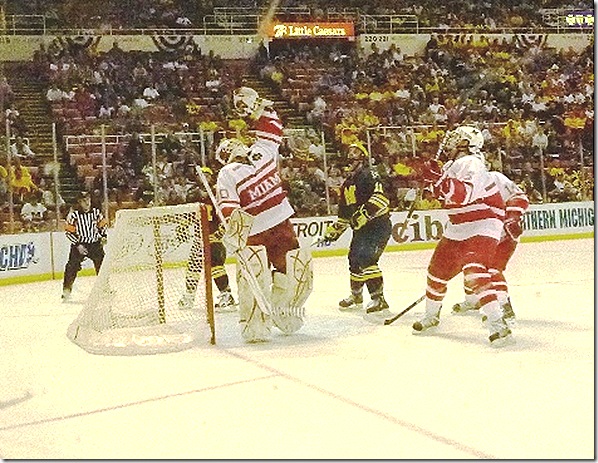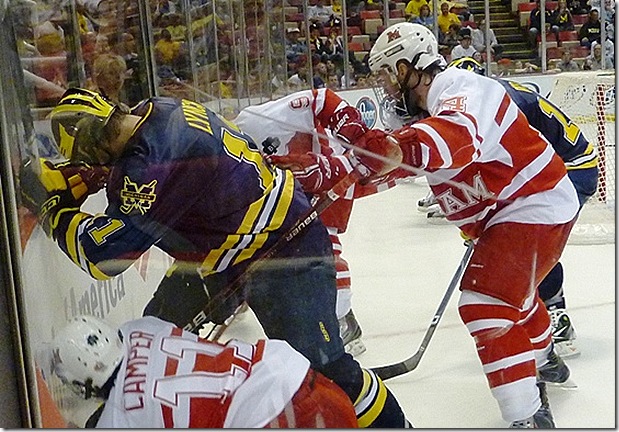 Who was called for a penalty on this play?  If you answered "both teams" you were right, but justice was not served.  It didn't matter: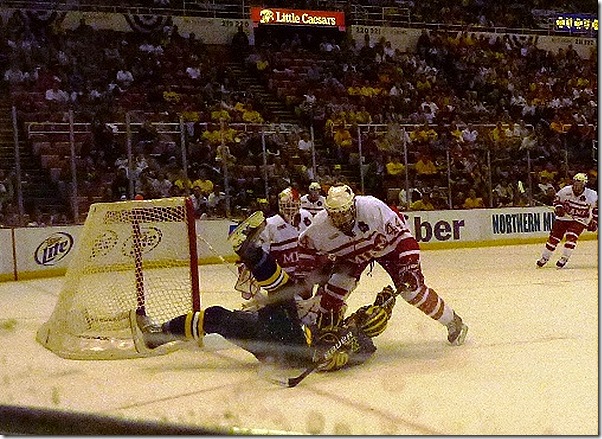 This is the Miami back-up goalie Connor Knapp who is 7'5", aka Jason Voorhees, aka the biggest person on Earth: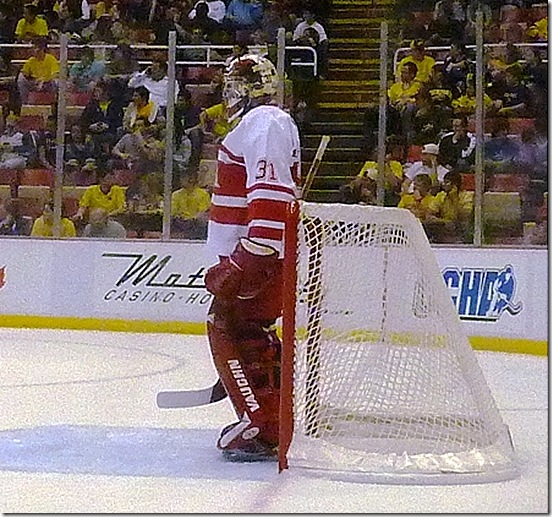 Don't believe me?  Check this out, that's Jake Long to the far right: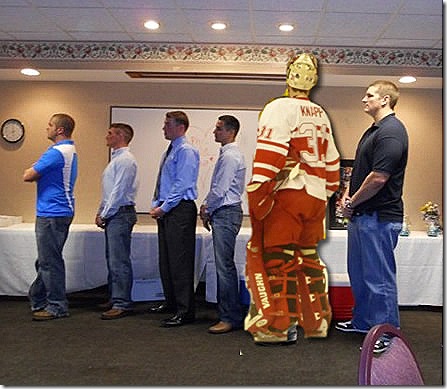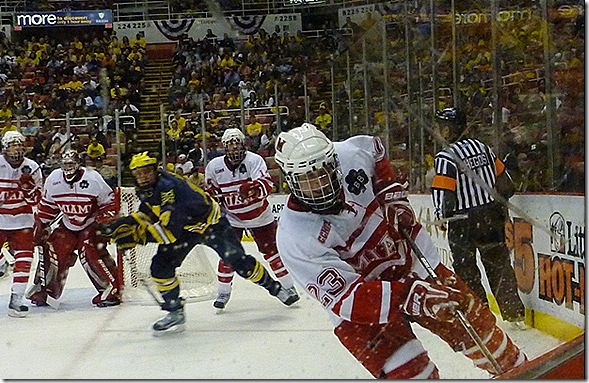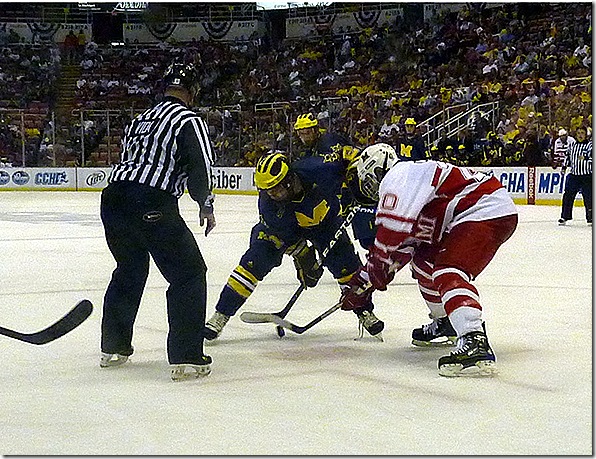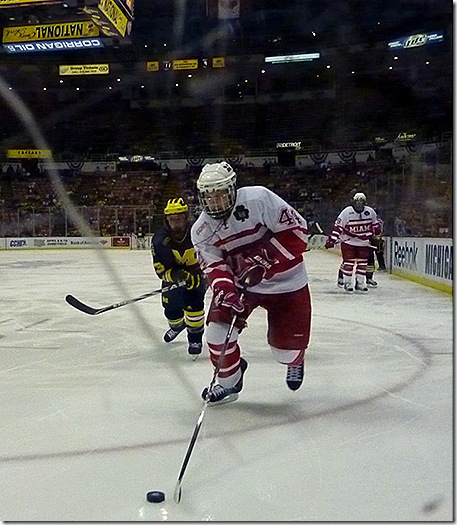 And everyone had a great time:
Elsewhere: 
Yost Built on the big win.  Great words on Hunwick and the defense:
First let's talk about the best story in college hockey–Shawn Hunwick. He made some huge stops throughout the contest, showing that, yes, the team is playing well in front of him, but that there's a reason for it. He's stopping pucks. He's not giving up the soft goal every night. He's battling, he's making saves, and the team has rallied behind him. The defense is diving to block shots, they're back-checking like crazy. They're playing the type of hockey you'd expect to see out of a Michigan team. But Hunwick. The one that will make the highlight reel was the stick save diving to his right, but he had a couple of pad saves that were every bit as good.