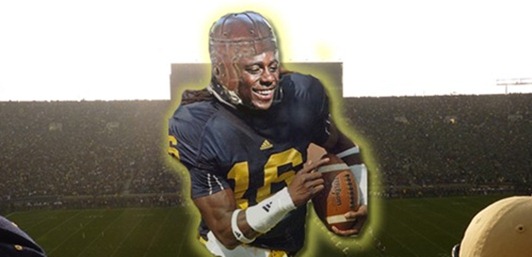 The 2012 football media guide is available for perusal so I perused.
Here are a few notable records that could be reached this season.  As usual, I don't think any of the records go much past the mid-1940s, although they list a few of Harmon's stats in the late 1930s and occasionally offer "pre-modern" data.  Some of the defensive records only date to the 1960s.
Roy Roundtree has caught a ball in 19 straight games.   Braylon has the career record with an impressive 38.  Obviously Treezy won't catch him, but if he runs the season out including the B1G title game and a bowl, he could up 3rd all-time with 33 straight, just ahead up Marquise Walker with 32.
U-M tracks plays which I assume are downs in which someone touches the ball.  Naturally it's all quarterbacks.  Denard (1126) trails Chad Henne (1567) by 441 but participated in 479 last season and 547 in 2012.  If he's healthy it should happen.
 Did you know that Will Hagerup's 2010 effort was second all-time for season punting average?  I didn't.  Now, I'd like to see Harry Kipke's stats in here but nonetheless, assuming Hagerup earns the job back from Matt Wile, you'd have to think that Zoltan Mesko's season standard of 44.46 yards/punt (left) is obtainable with a good bounce or two.   Anyone who has seen Hagerup warm up knows why I think this could happen.
Speaking of special teams, Brendan Gibbons tallied 54 PATs last season, good for second all time.  Dana Coin ('71) and Bob Wood ('76) share the record of 55.
Super Drew Henson holds the season season record at average gain per play at 7.93, with Denard second at 7.81 in 2010.  I don't think it'll happen.  Lace averaged 6.99 in the Borges offense last season.  Denard still holds the career average at 7.25 per play, a health .23 yd/play ahead of Todd Collins.
Denard's yards.  Denard is rewriting this section of the record book (below) and if he's healthy will blow away the career category in most (all purpose) yards gained.  He trails Henne (9,300) by just 1,140 yards and could surpass 12,000 yards for his career.
While Denard (3,229) won't catch Mike Hart (5,624) for career rushing yards, with just over 1,000 yards he will move into the top 5 all time, moving past Chris Perry (4,269).
It's not all roses for #16 in the record books.  Denard has tossed 30 career interceptions, the all time leader Chad Henne has 37.  There are four qbs between them.    With 15 last year, and 11 in 2010, Denard will almost certainly hold this record for a while.
Jordan Kovacs has 266 career tackles.  They've kept these stats since 1966 and while he's not going to threaten leader Ron Simpkins (516), with 95 tackles he moves into the top 10 all time.  Impressive.  (Kovacs had 116 tackles in 2010; 75 last season).
Kovacs also has 5 career forced fumbles, tied for 6th all time, behind career leader Lamar Woodley (10).   He needs three this season to move into second place all alone.
Hmm, the record book lists Courtney Avery as having the career lead in fumble return yards with 83, thanks to his…um, 83 yard fumble return again Minnesota last year.   I remember it well because the play preserved the shutout of the Gophers and it happened right in front of me.    (Maybe 83 1/2?):
Denard has 210 career points, a ways from Garrett Rivas' 354.   71 points this season will place him in the top 5 all-time. 
Finally, with just nine more touchdowns Denard (35) will pass Mike Hart (43) for third all time.  He's unlikely to catch Anthony Thomas at #1 all time with 56 career TDs in the modern era.    If you include the pre-modern era, and I guess I should (haha), the great Point a Minute superstar Willie Heston is credited with 72 and no one will ever touch that.
Follow MVictors on Twitter.   Sunday is media day – I'll be tweeting or doing a CIL.