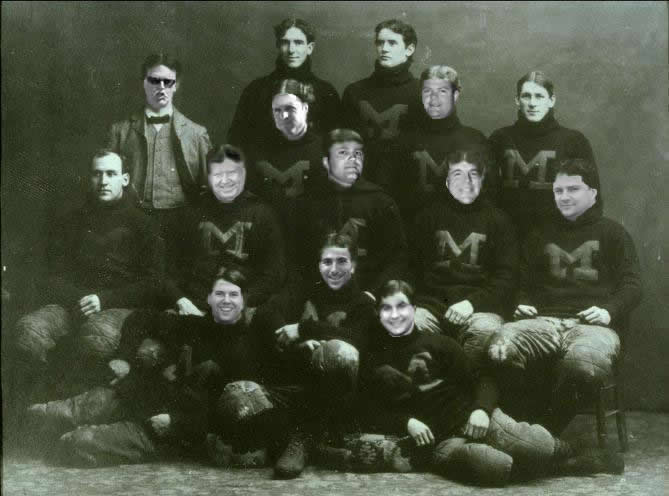 Michigan Offense Too Much for Buckeyes, Luck Stops Here
ANN ARBOR, MICHIGAN NOVEMBER 22, 2003 What a win in a crazy game. A Chris Perry touchdown run late in the fourth quarter essentially put it away, although I wasn't comfortable until Ernest Shazor intercepted Scott McMullen's pass with under two minutes to play. Here are a few takes on this incredible game, which was of course the 100th meeting between the two teams:
– We'll see how this shakes out in the BCS, but it looks like Michigan will surely end up in the 2004 Rose Bowl, and Ohio State will end up in some other BCS Bowl.
– Chris Perry made excellent cuts all day and ran like crazy on the #1 rushing defense in the nation. I'm hoping that he gets invited to New York for the Heisman trophy presentation (he needs to be in the top 4). Putting artificial turf in the stadium was a huge boost for the Blue. This 14 point win was the closest of the year at home.
– John Navarre played a sharp game, just as he has the past several weeks since his legendary comeback against Minnesota.
– Jason Avant going down early was a concern, but that's probably Michigan's deepest position. Ann Arbor native (Pioneer) Carl Tabb filled in nicely making two great catches. Avant's attempt to pump up the crowd while being carted off the field was classic.
– When Perry went down it was definitely pretty nerve racking. Most of the stadium was chanting, "PER-RY, PER-RY, PER-RY", like we were audibly reviving a professional wrestler. That said, it was pretty sweet.
– Steve Breaston is something. It is obvious that the guy is fast and elusive, but can take a serious hit. He's tough.
– Lloyd Carr is now 14-3 lifetime against teams ranked in the Top 10.
– Ohio State's punter put on a show with his booming, long, high and well placed punts. It was the best punting performance I've ever seen. Maligned Michigan punter Adam Finley played the best I've ever seen him play, getting off great punts as well (but nothing compared to that freak from Ohio State. That guy is a weapon).
– Lew Popoff and I got to the game about 45 minutes early and hung out near the Michigan sideline at the 50 yard line in Row #1. We both got the chills seeing the team come out of the tunnel and under the M Club banner. We also met two-time Heisman trophy winner Buckeye Archie Griffin (see photo left) and had a chance to witness the Buckeye band's epic "Script Ohio" front and center.
– The entire game the Michigan players were urging the crowd to stand up and make noise. Our section was standing for the vast majority of the game.
– Sizing up the number of alumni players on the field, Lew correctly predicted that the record crowd would exceed 112,000.
– My game prediction was totally wrong; I'd guess I'm not the only one. I saw a tight first half with M pulling away in the second (wrong). I saw OSU getting to Navarre (no sacks), and Chris Perry being pretty much shut down (ha!). And who would have thought that this game would be a shoot-out? Craig Krenzel (or Kris Kringle as Brent Grow called him after the game) is a tough SOB.
– After the game, the large section of Buckeye fans remained at the game in the South end zone. About 50-100 Michigan students who were on the field ran over to the OSU corner to taunt them. Many of the students were armed with "the bird" on both hands. It was quite a sight.
– I heard that Grump Lloyd Carr tore into the ABC guy who asked him why he didn't try to score with 40 seconds left in the half. He is something, man. It cracks me up that he ripped into the guy (and I agree that it is a stupid question), but Lloyd is a grump. On Michigan Replay on Sunday morning Carr apologized.
– For those wondering, Good Time Charley's did not run out of chicken wings after the game, but we did everything we could to help them try. The waiter said he'd never seen more downed chicken wings at a table. The crew of Timmy, Greek, Lew and Ks were happy to take this title.
– It looks like OSU will fall just one slot behind Michigan in the BCS standings (projected by Brad Edwards on ESPN). So..we'll have to see how far behind they are and if the teams ahead of OSU in the human polls lose in the final weeks of the season…watch out!
– Dude, is every Ohio State Buckeye fan entitled to a lifetime collection of cheesy sunglasses?