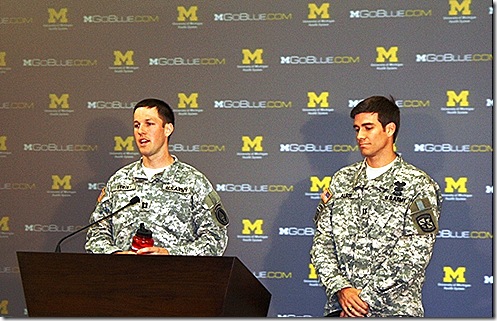 A few cool things planned for Saturday as the athletic department honors the military during the Illinois game:
Members of the Wounded Warrior Project and Gold Star families of Michigan will line the tunnel as the Michigan football squad takes the field.
The MMB will play a medley of military sounds from each branch and will be flanked by two 65×120 foot flags, held by members of the U-M ROTC and Student Veterans' Association.
Four T-38s will perform a fly-over.
How to Help
At gates #2 and #8 on Saturday, folks will be collecting items for the Afghan families and troops:
For Afghan families: they request new or used winter clothing, coats, hats, gloves, Michigan clothing (nice!), pens, pencils, crayons, notebooks, children's books, generic bifocal lenses, blankets, small toys, stuffed animals.
For the Troops:  black socks (Jalen's got those), deodorant, baby wipes, hand sanitizer, gum, protein bars, Ramen noodles, canned meat, trail mix, and new or used DVDs or video games.   You can also leave handwritten cards and letters.
If you can't make it they'll be taking donations in the lobby of the ticket office at 1000 S. State Street between 8:30am and 5pm starting Monday 11/1 through Friday 11/5.
Tim Hortons is donating up to 720 pounds (46,000 cups!) of coffee.  When they mentioned this I saw a big smile on the faces of the guys in the photo above.  Dude, soldiers like their joe, man.  (me too).
Finally, the team will have a US flag patch on their helmets and thanks to the great Jim Brandstatter, here's what the coaches' sidelines hats will look like Saturday: