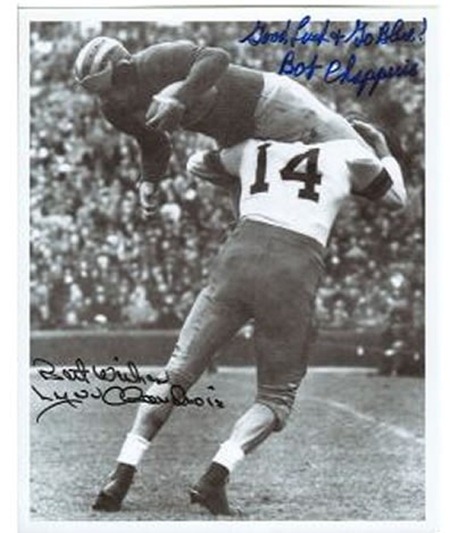 So sad to get the news this week that Bob Chappuis, a true Michigan football legend passed away. 
I have many thoughts on this, but mainly a big regret.  I was working on doing an interview with Mr. Chappuis this spring, already did the prep work and had the questions and materials ready– it just needed to happen.   For a few different reasons it didn't happen and obviously that's something I can't get back.
Michigan announcing they are unretiring the jerseys of Oosterbaan, Kramer and Ford brought to mind Chappuis to me this week, because I was hoping U-M would honor his #49 while he was still with us.  (I think I said as much on WTKA last year but can't find the clip).   It will happen some day.
Chappuis was a frequent visitor to the pressbox for games, often sitting with fellow legend Don Lund and family near the south side.   Here's a pic from 2010 before the UMass game: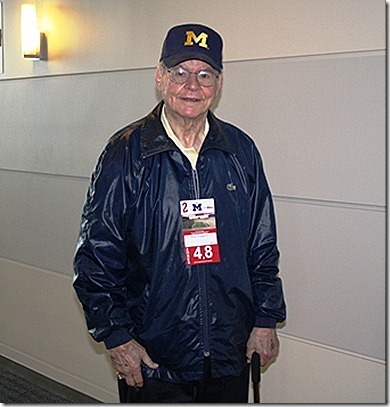 He could have occupied a chapter in Brokaw's 'Greatest Generation': a sports legend, WWII airman, business man, family man.  Truly a great life.   Speaking of his exploits in WWII, check out this once classified report on the crash of his plane "Idiots Delight" (naturally, via U-M Bentley Historical Library) over Italy: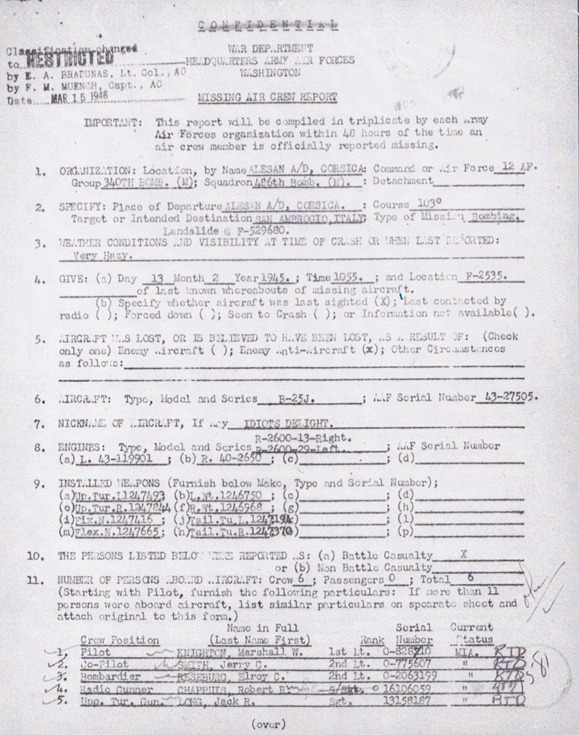 For U-M fans, may Mr. Chappuis live on in diagrammed wire photos, beautiful videos of his Mad Magicians, and one day, on the gridiron and in Schembechler Hall as a Michigan Legend.
Official press release via U-M Media Relations:
Former U-M Great, Heisman Runner-up Bob Chappuis Passes Away

ANN ARBOR, Mich. – Former University of Michigan football All-American Bob Chappuis passed away late yesterday (June 14) at the age of 89. Chappuis was hospitalized after a fall earlier this week and died at the U-M Hospital surrounded by his wife, Ann, and their four children.

Chappuis was elected to the College Football Hall of Fame in 1988 and was inducted into the Michigan Hall of Honor in 1984.  Not only did Chappuis play football, he was a two-year letterman in baseball for the Wolverines.

Chappuis played football for the Wolverines in 1942 before his career was interrupted by World War II. As an aerial gunner and radio operator on B-25 bombers during the war, Chappuis was shot down over Italy on his 21st mission. He was rescued by an Italian partisan and remained in Italy until the end of the war, evading German soldiers in a series of thrilling adventures.

A triple-threat back, he resumed his Michigan playing career after the war in 1946. Chappuis became one of the greatest backs in college football during the 1947 season. He earned unanimous first-team All-America honors and finished second in the Heisman Trophy balloting. Chappuis led the 1947 Michigan squad, known as the "Mad Magicians," to an undefeated season and the national title.

Chappuis ended his Michigan football career as the 1948 Rose Bowl MVP, setting two records for total offense and pass completions in a 49-0 victory over Southern California. Chappuis was inducted into the Rose Bowl Hall of Fame in 1992.

He continues to hold the Big Ten Conference single-season passer rating record (175.3 rating) and the U-M season mark for yards per completion (18.8 avg.). Chappuis led the Wolverines in passing and total offense in 1946 and 1947, receiving All-Big Ten honors both seasons. He was regarded as one of the early passing specialists in college football.

He played two years of professional football with the All-America Football Conference (AAFC). Chappuis was the starting quarterback for the Brooklyn Dodgers and Chicago Hornets in 1948 and 1949. He retired from football in 1950 when the league folded.

Chappuis entered the business sector and was a successful labor relations director.

He was to be inducted into the state of Michigan Sports Hall of Fame this fall.
Follow MVictors on Twitter