Before the season most expected Michigan to lose four to six games (me) this year so sitting at 5-1 at this point shouldn't be shock.  But when drilling down at each game, losses vs. UConn or Notre Dame or even at Indiana were stomachable.  But if you insisted during preseason that one of those losses would be to MSU you'd get a little cringe from anyone, definitely from me.  That hurt.
Monday I wrote, "you could argue that the future of Michigan football is in the balance" on Saturday's game.   That was admittedly a tad strong but given the manner of the result, the scales just tilted against the future of Rich Rod in Ann Arbor.   There's plenty of opportunity, starting Saturday, to tip things back.  This morning you've got a fanbase of M fans, as in Missourah, as in 'show me' this team can hang in the Big Ten.
Sights and Sounds
Check out my pregame photos here.   I've been trying to post these just as the game starts so if you like this kind of thing, head here early in the first quarter during home games if you want to check them out.   Includes former captains Mark Messner, Jim Conley, Denard and more.
One of those pregame shots included the Screaming Eagle parachute drop which I think is so cool.  Here's a closer look from the press box: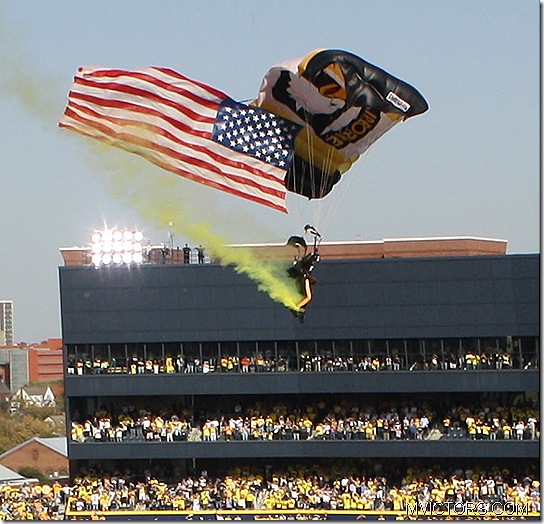 On the pregame, I can tell you from my perspective that atmosphere was off the charts.  It was certainly a mix of the weather, the booze and the rivalry, but everyone was fired up.  The volume of 'The Victors' echoed up into the press box as the band took the field and it was pretty wild out there.
There is much to rail on yesterday, especially with the defense, but a thought a few a guys did a nice job.  Will Hagerup finally showed a little of that leg to home fans, and overall special teams did a pretty good job.  Seth Broekhuizen looked great in warm-ups, thankfully connected on one field goal but best I could tell, had a pretty poor kick to end the first half.  The snap was bad but it looked like the holder got it down in time before Broekhuizen pounded it just above the line.
In a brutal day for the receivers, Kelvin Grady made a couple really nice grabs including a clutch snatch on fourth down after a couple drops in that set of downs by his colleagues.  Roundtree had a two bad drops but you've gotta know he'll be fine, he just seem to have the personality to be affected by that.
Obviously Denard had a tough day but I heard a couple calls/tweets/what-have-you for Tate.  Umm, come on people.   The missed opportunities were enormous and early in the game Michigan almost broke a few runs that would have changed the complexion of the game but I don't think it would have changed the outcome.
Sam Webb was railing pretty hard this morning on WTKA to get someone else in there at linebacker to replace Obi Ezeh.  There's gotta be someone in we can at least mix in there.  Man, the problem of over-pursuit and missed tackles right up the middle doesn't seem to be getting any better.  While Cam Gordon isn't performing at a high or even medium level, I think people understand he's young and learning like a lot guys back there.
Hat is off to Cousins and MSU for executing nearly flawlessly all game, no turnovers and demonstrating some old school pounding up the middle.   Also give the state DBs credit for making those picks especially Rucker's grab in the second half, a great play.
I hear that the MSU locker room had no hot water after the game and naturally the suggestion that Rich Rod had something to do with it.  Right – as if RR didn't have enough to deal with.  He gameplanned the postgame cold showers.
Postgame Shots. 
Look away if you must.  Nay, take your medicine like a man: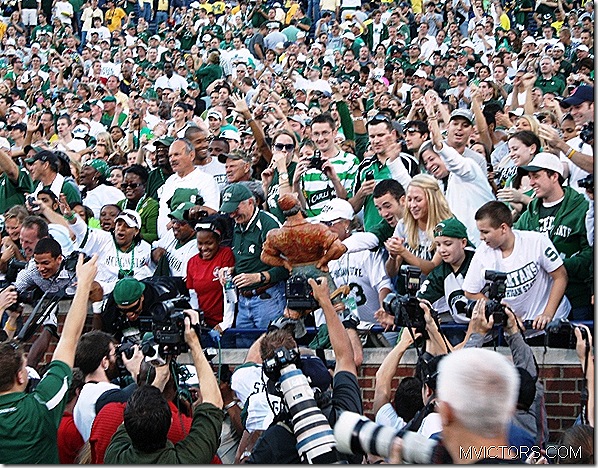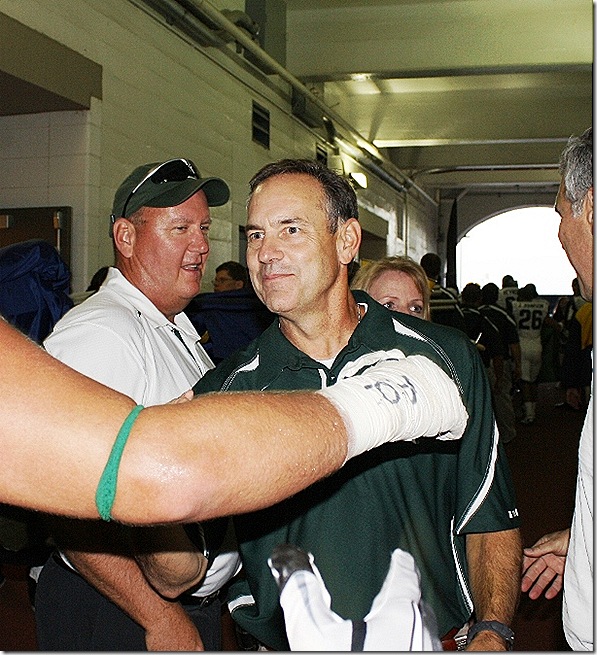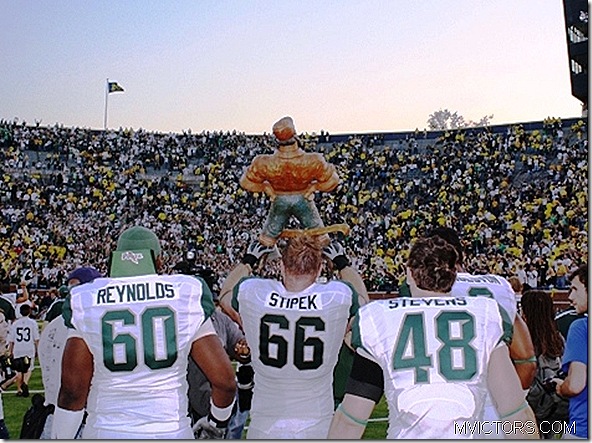 Follow MVictors on Twitter