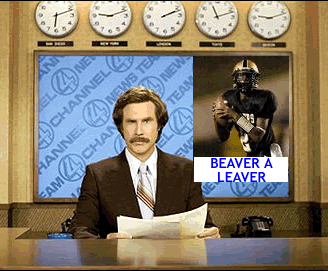 Piss
. And he's beyond undecided, he swapped verbals with Tulsa:
"It's about who you're going to be with over the next four years," Beaver said on Friday, adding that proximity played a big role. "I was impressed with how (the Tulsa coaches) carried themselves. They told me everything that was offered, and everything they said made sense."

Beaver said TU coach Todd Graham discussed the importance of growing as a person away from the football field, an emphasis that Michigan didn't approach. It made a difference, the player said.
And a little reaction from mgoblog, pissed that Beaver misled everyone. As is Sean over at Michigan Sports Center.

A couple takes here:
– It's a little bit of a blast to suggest that Tulsa put more of an emphasis on life off the field than Rich Rod and crew but this is nowhere in the ballpark of the Boren remarks. He's a kid, he gets a pass and I'm guessing he had a lot more in common with these coaches. And the scuttlebutt says his moms had a lot to do with the decision. That's fine.
– Reading his quotes, "The coaches told me I could compete right away" and the fact that he left a giant program for a mid- to lower-tier squad, I'm guessing he didn't have the stomach for a battle with Tate Forcier and even Threet for the position.
I tried to make some play on 'Leave it to Beaver' in the title of this post but failed. Tried things like "Beaver Leaves it for TU" or something but couldn't make it work a la all the people who tried to tie Carr and Miles together this time last year.
Related:
– Newsome Gone, Clear Calendars