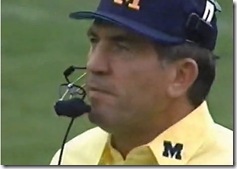 Did I tell you to order the Notre Dame program. Inside is an special audio clip including the calls from Musberger and Beckmann on 'The Catch' in the 1991.  Yeah, yeah, you've heard that before.
That is nice of course, but they also inserted a couple choice snippets of the audio from Gary Moeller's headset before the play.  How they have that I have no idea.
In the clip first you hear someone [not Moeller, perhaps Grbac?] calling the play, which appears to be, "Right side 29, Caesar or Ghost."  Then you hearMoeller talking to Grbac, presumably in the huddle right before the play: "If you've got a simple completion, throw it."
Then the next part is amazing.  Moeller then is talking directly to Howard, telling the Heisman candidate: "Desmond, you've gotta look it in."  Jeez that is awesome.  (and he did):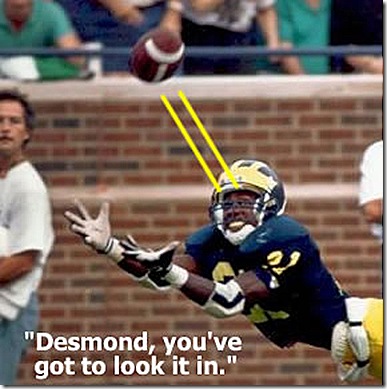 It gets better.
You then hear Moeller talking to the coaches on the headset, presumably as the team is lining up, telling them exactly what is about to happen:
Moeller: "You know what we're gonna do right now?  He's gonna throw it to Desmond and Desmond's going to score a touchdown…"
I love it.
[Update:  mgoblue.com posted all of the clips here, including the full length of Moeller.  Funny, after he says "..and Demond's going to score a TD…He asks, "J, should I be kicking a field goal?" LOL.  After the play he adds, "That kid in unbelievable.." ].  Here it is:
Gary Moeller audio - mgoblue.com
Play Now
|
Play in Popup
|
Download
Memo to AD Dave Brandon, we need some more headset audio of Bo, Mo, Lloyd and whatever else you have.