I rare 30 minute trip inside the postgame locker room including a few moments with David Molk, who was chilling out in the aftermath of the big win.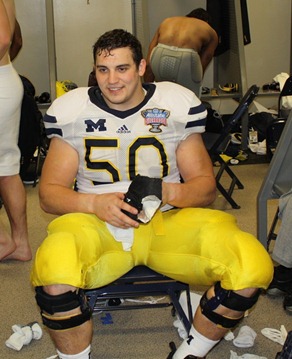 On what happened  before the game:
Molk:  "I was fine before we got here.  As pregame went through, one thing led to another and something happened."
On whether it was his call not to go versus the coaches/trainers:
Molk: "I was waiting for feeling.  Once I got that…it's humanly impossibly for me to sit and watch football when I'm dressed up.   So I figured it out, taped it up…and went at it."
Chris Balas asked if he was "fighting for his life" on the field:
Molk: "I don't know if I was fighting for my life.  I still had one leg.  Come on, I squat a ton [laughs] so one leg's good enough."
On the idea of getting a championship ring:
Molk: "We actually talked about.  We weren't even positive we'd get a ring after this game.  It used to always a be a Big Ten championship or nothing.    You know, we didn't win a Big Ten championship but at the same time it's a BCS bowl game.  Something to remember you'd want to show to your grandkids and your grandkids' grandkids.  It'd be something to carry on."
Later:
Jim Brandstatter stopped by and praised him for battling out there.  Molk said he was "just doing what a Michigan Man is supposed to do."   Love it.
Follow MVictors on Twitter 
Related: