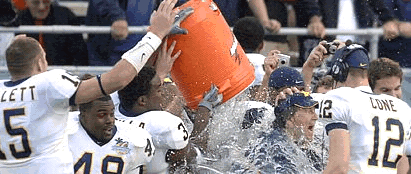 I'm still blown away by the team's performance on Tuesday. Looking over the highlights and the media coverage it is just amazing.
When things fell like they did, with Penn State and Wisconsin locking into their bowls prior to the BCS pairings and Michigan just hanging there and then finally drawing Florida of all teams….I thought it was a good break for Michigan to get a New Year's Day bowl but a bad one given they'd have to play the likely Heisman winner and the defending national champion. The Gators seemed to be a perfect poison for the struggling Wolverines. You had to be thinking bad thoughts or at least braced for a spanking like fellow blogger CC at Autumn Thunder.
The one hope I had coming in was that we'd have a healthy Henne and Hart, and you know good things can happen when those guys are clicking. But still…it was Florida with Tebow and Harvin. Not mention they were playing essentially a home game.
The way those guys played despite the mistakes – it was just incredible. Watch the highlights again and watch how hard Arrington is going and how hard the defensive line comes off the ball. Even when Tebow made a play he ended up on his arse. Finally for MVP Henne, talk about putting it all together in his final game! He was so sharp (save bad decisions on the 2 trick plays) and just raised his NFL stock three-fold.
Then to hear Carr's words on the field after the game and finally the transcript of his locker room speech. The Big Ten Network provided some video of the speech – MGoBlog embedded the video, and Michigan Sports Center has some great clips as well. But I've captured, saved and hosted the audio so it doesn't get lost. Not the greatest quality but you get the idea. Enjoy:
Lloyd Carr locker room speech 1-1-08
Play Now
|
Play in Popup
|
Download
And to watch the way West Virginia played last night. Those players played a lot like Michigan and I was impressed with the defense. This is going to be a fun off season. I'm so happy for Carr and excited to see what Rodriguez can do. I hope each recruit that is on the fence watched that game and heard Carr's words after the game. It's two days later and I'm still giddy over all this.