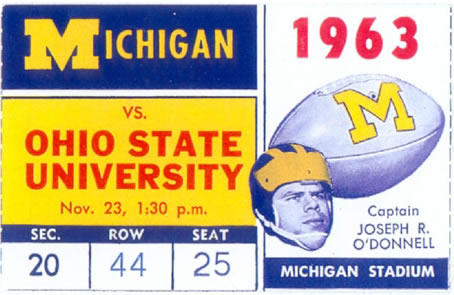 Played November 30, 1963, scheduled November 23, 1963
On the eve of the 50th anniversary of the Kennedy assassination, a repost. Back in 2009 I asked Dr. Barry Dehlin, a sophomore on Bump Elliott's 1963 squad, to talk about his memories of that historic day. The day after the shooting Ohio State was scheduled to be at the Big House but understandably that game was postponed to honor the President. Here's what Dehlin shared:
Naturally the assassination was a shock to all of us. I remember being in the dorm getting ready to go to practice when I heard what had happened. One of those sentinel moments in your life that you will always remember. We still met that Friday and the decision was already made that the game was postponed and would be played the next Saturday which of course was after Thanksgiving. The players would have to stay in town and not go home for Thanksgiving.

It was a cold week of practice but the interesting thing we did was bus to the Lions/Packers game on Thanksgiving. We sat on the field at Tiger stadium to watch the Lions and Packers tie. I believe that was the last game of the Lions and Packers on Thanksgiving for many years. That story I don't know. [Ed: Correct. That game, a 13-13 tie, was the end of a string of thirteen straight Thanksgiving Day games for the Packers and Lions in Detroit.]

The game then was played the next Saturday and Ohio won on a pass to Paul Warfield in the end zone just over the hands of Jack Clancy. Warfield of course had a fine pro career and so did Clancy, who also was a wideout in the pros. Also remember the college game before 1965 did not allow unlimited substitution. On a fumble or interception only 2 players could be substituted each down for the first series. It was a much different game.

Thanks for letting me reminisce.

Go Blue
Great stuff.
The Ohio State loss capped a tough run for Elliott's squad, as they finished 3-4-2 good for fifth in the conference. The following season, Dehlin along with captain Jim Conley turned things completely around capped off with a 10-0 victory in Columbus and a 34-7 thumping of Oregon State in the Rose Bowl.
Follow MVictors on Twitter
[Ed. The original post discussed this game and other times when games were moved.]