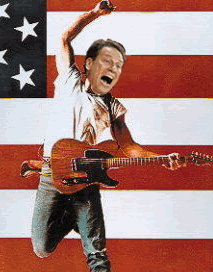 Spartans coast after Hot Michigan Start
SALINE, MICHIGAN FEBRUARY 18, 2006 Michigan State withstood a quick Michigan start and slowly crushed the Wolverines for their 9th straight victory over the Blue at Breslin Arena. Shannon Brown was the player of the game, epitomizing the gap in talent the Spartans have over Michigan. Brown tossed in acrobatic lay-ups and dropped deadly threes to keep the game out of reach.
The struggling Blue now need an upset win over Illinois and/or Ohio State to be considered for a NCAA berth. This is shocking considering where they sat just a couple weeks ago, firmly planted in the Top 25. But loss to a very weak Purdue team and bad losses to Ohio State and Iowa have left the Wolverines wondering what could have been.
For the Spartans, they have struggled as well but have enough quality wins to give Tom Izzo a lock on another NCAA bid. State seems to have the tools to engineer another solid tournament run if he can get consistency out of Brown and Maurice Ager. They certainly had it working today, as they rung up 90 on the defenseless Wolverines. Had they broke 100, that would have meant half-off big rigs at Paul Revere's Tavern in East Lansing. More takes:
Son, Clean up Your Act – For those watching on ESPN, you were treated to some video on pre-game antics when a drunk Johnny Spirit wannabe somehow was able to get onto the Breslin Court during the early pregame shoot-around and cause some trouble. This mess of a young man was clearly stumbling drunk as he was watching warm-ups, and decided to step closely by Michigan junior Amadou Ba. Ba was not amused, and stuck his leg out as the guy walked by. The fool leaned in to say something, and Ba, not about to listen or smell this fine young man, sent him to the ground. Shocker, it was confirmed on ESPN several times that the undergraduate student was given a breathalyzer and failed.
AirGeorgia@umich.edu – Brent Petway received all kinds of nasty emails from Spartan fans after the first game between these teams, stemming from a collision between he and Ager. Tormenting a guy on when he is on the court is one thing, but phone calls/emails to athletes is way overboard and should be considered a crime. I know it happens all the time but it is pretty sad. I'm not singling out Spartan fans; there have been several stories about Michigan fans sending hate emails to Chad Henne. Wondering how everyone gets the email address of these guys? No problem, for whatever reason Michigan publishes a link to its entire directory on umich.edu. Check it out. In many cases, the U provides not only university address, phone and email, but also home addresses and phone numbers.
Knowing your Audience – Jim Carty, columnist for the Ann Arbor News, has really gone after Tommy Amaker this week, basically saying this is going to work out for Michigan or Amaker, and that the Duke grad just doesn't get it. I was actually looking forward to Carty's take this morning, but instead he wrote a piece on the reshuffling of Michigan's football coaching staff!