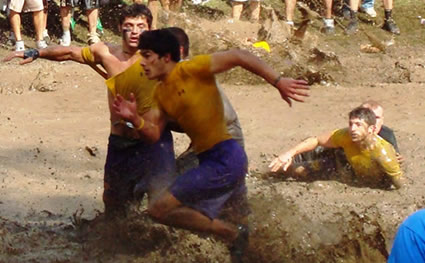 The 76th annual Mud Bowl was held outside the Sigma Alpha Epsilon fraternity at the corner of South University and Washtenaw Saturday. SAE defeated Phi Kappa Psi 36-16, never really looking back after scoring the first three touchdowns of the game. It was the 11th straight win for the host squad.
Tri-Delts and Alpha Phi sororities squared off at half time and I think the fans were the real winners in that battle. I've got some video I'll post later.
The event raised around $15,000 for University of Michigan Mott Children's Hospital and the Make a Wish Foundation.
Update:  And how about a few clips from the big day, you might like this if you're one of those freaks who enjoys girls, mud and wrestling.