I just finished Austin Murphy's piece on Rich Rod and the Michigan program in Sports Illustrated (the article behind the Forcier cover-corner).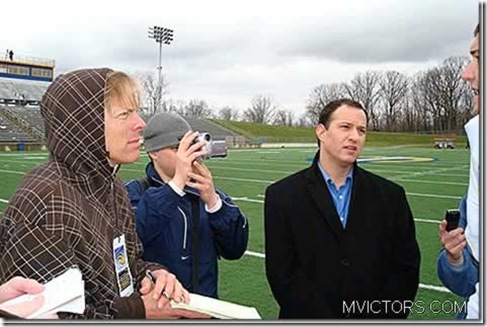 That's Murphy on the left with the hood; dressed way to lightly for the 2008 Spring game at Saline.  Joe Schad's in the overcoat, dress appropriately for the conditions.  They're chatting with Steve Threet.
When I spotted Murphy at the 2008 Saline Spring game my first thought was that the guy was trying way too hard to look cool.  It was freezing cold out there in the drizzle, and Murphy had on this thin striped pull-over atop designer jeans and was constantly blowing into his hands to keep warm. 
Then I heard his call into John U Bacon's show on WTKA last week.  While this might have been due to technical problems, Murphy was constantly cutting in and out and I suspect he was swinging his head around his receiver like a stoner whilst chatting with Bacs.  Painful radio.
But I'll give my hipster friend one thing, he can write.  For SI this week, Murphy sums up the history of Rodriguez's tenure in Ann Arbor, captures sentiment of the Michigan faithful and weaves in a dash of Forcier and the Notre Dame win. 
Probably like you, when I read these national stories I'm not really looking for new info (although there was a nice nugget: a quote from Mark Ortmann half-joking about the "snitch" on the team that spoke to the Freep about the excessive practices).   When I read these national media pieces I'm more interested in the writer's read on the situation or game, and in a article like this, whether they truly captured the sentiment of the fanbase.  I think he nailed it, was fair and included a few justified shots at Rodriguez and even Michigan fans.
Reacting to the Rodriguez's sob-filled presser a couple weeks ago, Murphy writes, "No one was saying he [Rod] didn't love his players—only that his love was overly tough and expressed in a way that violated NCAA rules."  Well played, Murph.  
He correctly captured the fan outcry on the piece writing, "It resulted in a firestorm of criticism….directed at the newspaper.  Fans correctly pointed out that there's a sizeable gray area between work that's voluntary and mandatory," and adds a shot at the 'everybody's doing it' crowd, which Murphy notes is "a defense that, while largely true, forces the Wolverines off their accustomed moral high ground."
And this was beautiful: "[Carr] was known to quote Jefferson, Churchill and Kipling.  At his introductory press conference Rodriguez quote Raifiki, the monkey in The Lion King."
So should he get a medal for getting it right and cracking me up at the same time?  Kind of.  Given some of the ill-informed opinions dropped by the national talking heads over the past year (especially the wide range of awful analysis on the Free Press piece -talking about all the internal strife on the team; with freshman opening complaining about the workouts, haha), it's more than nice to see someone get it right.  Warts and all.