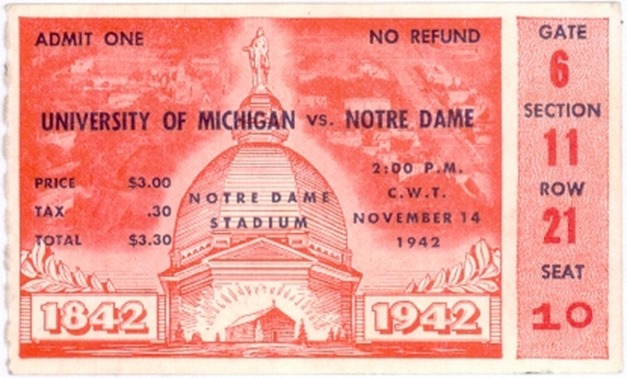 This week we mark Saturday's anniversary of the resumption of the Michigan-Notre Dame rivalry in 1942, when your beloved #6 ranked Wolverines traveled to South Bend and crushed on the #4 Irish.  But to understand the significance of that day, we first take a trip back to November 1910 to understand why the rivalry was originally cancelled.  Go Blue, Beat Irish!
This Week in Michigan Football History - Greg Dooley WTKA
Play Now
|
Play in Popup
|
Download
You can listen to all 6 years of This Week In Michigan Football History here.  And don't forget to catch the whole KeyBank Countdown to Kickoff on WTKA 1050AM starting 4 hours before each game, and of course live in the Bud Light Victors Lounge Saturday starting at 11:30am.
Follow MVictors on Twitter
/script
Today we head by to November 14, 1942, a very special day for 2 of the most storied programs in college football history, namely your beloved Wolverines and Notre Dame. To understand the significance of this day 73 years ago, you first have go all the way back to 1910.
Michigan were set to face the Irish on a football Saturday November 5, 1910 – but there was an issue. The folks in Ann Arbor took a hard look at Notre Dame's roster and learned that 2 key players were in their 7th year playing college football, and another was ineligible in his 4th season.
Michigan filed an official protest to Notre Dame days before the game and in the week leading up to the game the athletic authorities at both schools debated the rules— first with each other, and then in the press. On the Friday afternoon before the game the athletic directors met for one last try to settle the issue. Neither side backed down, and Michigan's AD cancelled the game.
The bad blood between the schools wouldn't heal over three decades and that brings up to November 14, 1942 – when the rivalry resumed. Michigan athletic director and head coach Fritz Crisler arranged with Notre Dame's Elmer Layden for two games to be played with Irish during the 1942 and 1943 seasons.
The 1942 game was played in South Bend and pitted #4 ranked Wolverines against the #6 Irish
Over 57,000 watched Notre Dame strike first and hold a 14-13 lead at half. But the 2nd half was all Meeechigan and the maize and blue rallied for 19 points in the third. All told the Irish surrended the ball 6 times on turnovers and the visitors from Ann Arbor rushed for over 300 yards.
Once again the axis of the college football world was restored, as the team who taught Notre Dame how to play football back in 1887 once again delivered a lesson, this time with a 32-20 beating as the natural rivalry was restored.
For more, check out MVictors.com and WTKA.com