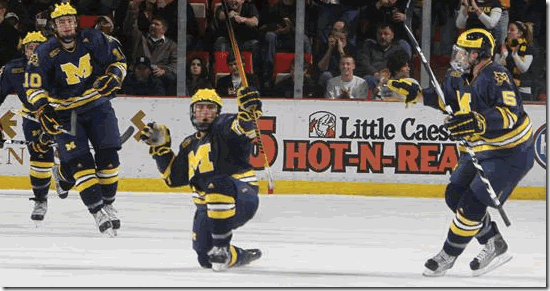 WOOOOOOOOOO!  And it goes on and on and on, on & on Photo: ccha.com
We'll know in a couple hours where this wild run goes from here, but it appears as though Shawn Hunwick and the Wolverines will be slotted at the number 12 seed overall and headed to Worcester.   What a run and what an incredible feeling for Michigan fans.  With the final ratings out there it looks like Michigan will be slotted as the number 12 overall seed and face North Dakota.
College Hockey News has a very nice breakdown of their projections:
Midwest (Fort Wayne)
1. Miami vs. 16. Alabama-Huntsville
8. Bemidji State vs. 9. Yale

East (Albany)
2. Denver vs. 15. RIT
7. Cornell vs. 10. Northern Michigan

West (St. Paul)
3. Wisconsin vs. 14. Vermont
6. St. Cloud State vs. 11. New Hampshire

Northeast (Worcester)
4. Boston College vs. 13. Alaska
5. North Dakota vs. 12. Michigan
Seedings explained here as well; the only question for CHN is whether Denver or Wisconsin will head to St. Paul:
The committee's procedure is to take the seedings (shown above), order them 1-16, then bracket them in serpentine order. In other words, 1-16-8-9 in one bracket … 2-15-7-10 in another … 3-14-6-11 … and 4-13-5-12. That gives us the groups you see above.

Consequently, Wisconsin — just by the way the numbers shake out — is matched with 6. St. Cloud, 11. New Hampshire and 14. Vermont. And Denver is with 7. Cornell, 10. Northern Michigan and 15. RIT.

In trying to decide between the two, the committee could just choose to go by its guidelines and keep Denver in St. Paul. Wisconsin gets next dibs and would go to Albany.

But — although the committee has shown less and less tendency to worry about maximizing attendance over the years — the attendance issue is still something that's looked at. And here the committee has the opportunity to help two sites.

In the West, Wisconsin and St. Cloud State would play close to their fans. And in the East, Cornell and RIT would play within their home state.

The caveat is this … New Hampshire and Vermont would both also draw very well to Albany, so the committee could just as easily do that. But then you are sticking St. Paul with a bracket of Denver, Northern Michigan and two Eastern teams.
Selection show is 11:30 on ESPN2.