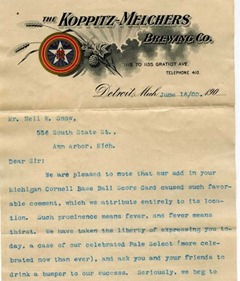 For Saturday's edition of This Week in Michigan Football History, we head back 112 years to arguably the greatest calendar year in Michigan football history. That's right I said it.
While that's up for discussion, there's little doubt 1902 was one of the finest for Michigan athlete Neil Snow.
On January 1, 1902, Snow tallied 5 touchdowns in the inaugural Rose Bowl.
Back in Ann Arbor my man Snow the undisputed was big man on campus #BMOC, and the folks at the Koppitz-Melchers Brewery of Detroit put an ad in the Cornell-Michigan baseball program telling everyone how much Snow loved their beer. Of course he didn't consent to the ad.
Here's how that all played out, as well as the game played on October 4, 1902:
Neil Snow Gets Beer - This Week in Michigan Football History
Play Now
|
Play in Popup
|
Download
The full story of the 1902 beergate tale here. You can catch all of the This Week in Michigan Football History clips here.
And don't forget to catch it live Saturday on the KeyBank Countdown to kick-off on WTKA 1050AM starting tomorrow at 3pm EDT (4 hours prior to Rutgers getting their butts kicked).
Follow MVictors on Twitter
1902 was a grand year in Michigan football history – and some might argue the grandest. Things got started off on January 1st when Fielding Yost capped his perfectly perfect first season with a 49-0 mercy beating of Stanford in the first Rose Bowl. The shutout delivered the first national championship to Ann Arbor, and capped a 11 and 0 season where the Wolverines outscored opponents 550 to zero – nothing, zilch nada- that's right, no team mustered a single point.
One of the stars on that 1901 squad was an All-American named Neil Snow who scored 5 touchdowns in Pasadena and eventually landed in the college football hall of fame.
Snow also captained baseball and track teams and it sounds like he also captained the party scene on campus and was known to enjoy a few beers with his buddies from time to time.
Somehow the folks down at the Koppitz-Melchers brewery in Detroit got word of the captain's beer preference – and get this – they placed an advertisement in the 1902 Michigan-Cornell baseball program touting Snow's approval of their Pale Select beer!
Of course Snow was still a student at the time and was neither contacted about this and didn't consent to the ad. This was a less litigious age, and instead of a lawsuit, he simply wrote the folks at the Koppitz brewery, saying:
<quote> I don't deny the allegation I drink Koppitz-Melchers Pale Select about as often as I can get hold of it. The sensibilities of the more unreasonably puritanical have been shocked and my reputation with them seriously impaired…It didn't do me a bit of good." <unquote>
Snow suggested a deal:
<quote> "If you want to make an awful hit with me and a few of my most intimate friends…send a case or two of Pale Select, express prepaid…" <unquote>
And it worked. The brewery did indeed send a case of the beer to Snow to his house on State Street. A note attached directed Neil and his friends to "drink to our success…"
Fast forward to the following football season that fall. While Snow's playing days were done, 'Hurry Up' Yost was just getting started. His 1902 squad reloaded and picked up where they left off. On October 4, 1902 the maize and blue destroyed Case 48 to 6. While this was the first time Yost was scored up since his arrival in Ann Arbor it was no bother – his Meechigan men rolled again through the season 11 and 0, outscoring opponents, 644 to 12 to claim another national championship…
For more, Checkout MVictors.com and WTKA.com – for the KeyBank Countdown to Kickoff, this is Greg Dooley.