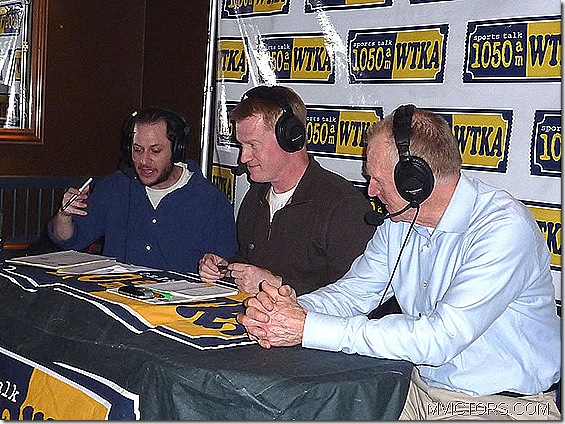 Left to right, WTKA's Ira Weintraub, John U. Bacon and coach Red Berenson.  Sidenote: If Red retires it won't be for health reasons, the Baron is fit as a fiddle.  (photo: Ansel Adams)
Dave Brandon has only been at the helm for a few weeks but he's already presided over some new chapters of Michigan history – perhaps literally.   I recently reached out to a pair of noted Wolverine historians, namely John U. Bacon and John Kryk, to comment on a couple of major goings on down on State Street.
Blue Ice 2?
As unlikely as this seemed just a few weeks ago, the run of the hockey team through the CCHA playoffs and into the dance will unquestionably go down in U-M hockey lore.  Beyond the turnaround, consider the preservation of the unbelievable consecutive NCAA tournament appearances streak (now 20) and the emergence of walk-on goalie Shawn Hunwick.  If it's not a movie script, it's certainly a chapter in a book. 
But where does this all fit in M hockey lore?   The definitive book on Wolverine hockey is of course John U. Bacon's marvelous Blue Ice: The Story of Michigan Hockey.  While Bacs hasn't produced an updated volume, the story of the 2009-10 squad would certainly have its place if Blue Ice were penned today. 
I caught up to JUB at The Arena for the WTKA 1050AM Red Berenson radio show tonight and asked him about where all this ranks in the annals of Wolverine hockey.
"In the 87 years of Michigan hockey I would have to say this is definitely a top ten story, which is saying a lot insofar as most of them involve NCAA titles," Bacon told me.
"For a practice goalie, a walk-on, to step in like this at the last minute for a team that was given up for dead on a team seeded seventh, the lowest seed ever to win it—it's a great moment.  And in my view, this transcends Michigan hockey."
I also asked Bacon if he had any thoughts on producing a updated edition of Blue Ice.  
"We're going to," he shared, "either next time they win a national title and/or when Red Berenson steps down."   Great news, hopefully the former happens sooner rather than later.
Nighting the Irish
Next up I emailed John Kryk, author of the phenomenal Natural Enemies: Major College Football's Oldest, Fiercest Rivalry-Michigan vs. Notre Dame and asked him to comment on his feelings on the announcement of the 2011 night game. 
As always, Kryk offered up a few sharp takes with some history mixed in:
I think it's great for Michigan, great for college football — but maybe not so great for Notre Dame. The Fighting Irish needed every sliver of added momentum to defeat the Wolverines in the three night games these teams have played at Notre Dame Stadium — in 1982, 1988 and 1990. And next year's will be a tough game for the Irish to win, even if the game were played on a neutral field, what with almost all of Michigan's starters this year returning in '11.

I think it's fitting that Notre Dame is the first opponent for the first night game in Michigan Stadium history. Remember, it was Michigan that played not only in the first day game at Notre Dame (in 1887) but in the first night game at Notre Dame Stadium, in 1982. Despite being severely outplayed, Bo's Wolverines nearly pulled out the win — thanks to some crazy luck (what Sports Illustrated called "the truly immaculate reception" for a TD by Rick Rogers), and some magic from AC, Anthony Carter, on the long punt-return TD.
I asked Kryk about the prospects of a new release of his great book.  As for now Kryk told me he has no plans to publish an updated edition of Natural Enemies but…he didn't completely rule it out, either.
Related:
The First Night Game (1944)