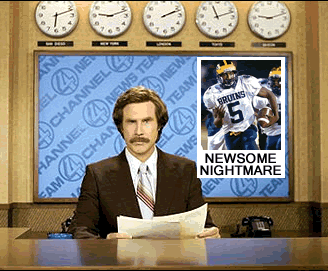 If you know by now (5pm EDT Tuesday) that Kevin Newsome decommitted from Michigan, congratulations, you're a bonafide maize and blue geek. I follow recruiting and appreciate the work on several sites especially on mgoblog but just don't get too worked up over the whole thing. I've seen way too many 4-5 stars come here and do nothing.
That said, I realize that most folks who reads the blogs and message boards crave recruiting big time. One of the most read posts on this site was a short blurb about Terrelle Pryor from earlier this year.
So you won't get any major reaction. Instead, I'll just offer that I love that Brian at mgoblog took the time to drop a few suggestions to readers and commenters, who no doubt canceled their dates with hot chicks to react to the Newsome departure:
Some comments from on high about the reaction:

* Please check to see if there's already a thread about it on the message board before posting the 2nd, 3rd, 4th, 5th, or 6th thread.
* Don't be that asshat who posts something misleading in the subject line only to say "ha ha not really" in the text. This is never funny and makes people think you are mildly retarded.
* Criticizing kids who decommit is always tiresome; skip it.
* Not quite as tiresome but nearly so is the sarcastic overreaction post.
Update: OK, maybe you can rip on Newsome a little bit if come strong like this.