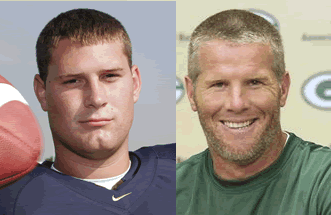 Check out this beauty on ESPN.com. The Todd McShay piece called out eight key characteristics that make a college QB desirable to NFL teams and found that our quarterback resembled a certain feature in the great Green Bay legend:
2. Durability
Best in the NFL: Brett Favre, Packers
Best from 2007 draft class: Brady Quinn, Notre Dame
Best of 2008 pro prospects: Chad Henne, Michigan (Sr.)
Rarely, if ever, misses games due to injury. He is a flexible athlete and will play through pain. Works hard in the offseason in order to maintain great stamina, strength and conditioning.
Take: I'm sure it is nice to be listed in this piece and to be mentioned in the same sentence as Favre, but 'durability' to me seems a half compliment. It basically says that Henne survived his time here up to this point and started a whole lot of games. I'm sure Henne would prefer to be listed under any one of the other categories especially Presence/Leadership [see Tom Brady]. And before anyone gets carried away the other guy compared to Favre was Mr. six pack abs.