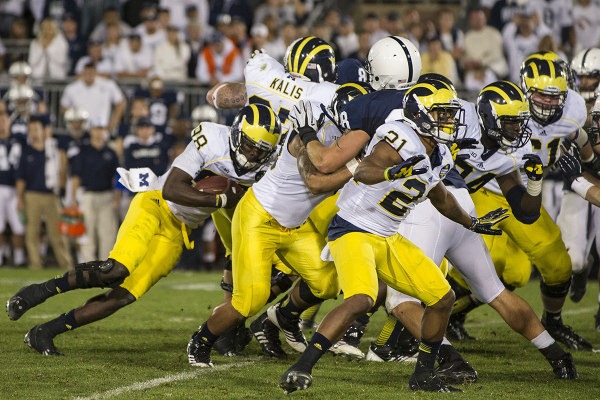 via mgoblue.com
In private the coaches would probably tell you they called the offense they did to protect the players, in particular Gardner, from making a fatal mistake. The irony of course is that by calling those toothless plays they ended up putting the team, time after time, in difficult situations. I don't think it's fair to blame Gibbons or Gardner or Wile anyone on the defense for this one—it's on the coaching staff.
Mudbowl > As part of your therapy after this mess I order you to you attend the annual SAE Mudbowl Saturday morning kickoff at 10:30am: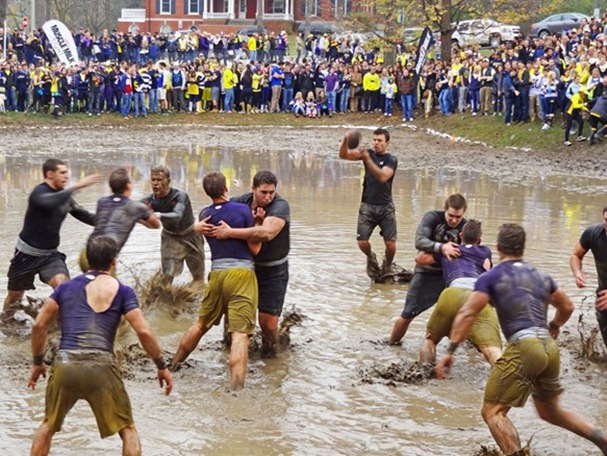 The slopfest benefits C.S. Mott Children's Hospital once again this year.
Stevie the Greek > Steve Clarke of WTKA's KeyBank Countdown to Kickoff has an impressive streak running. He took Penn State yesterday and now he's correctly predicted the winner of every Michigan game dating back to the 2011 Iowa game.
Historical Tidbits from the mgoblue notes >
Gallon extended his streak to 32 consecutive games with a reception. He is tied with Marquise Walker for the third-longest streak in school history, trailing only record-holder Braylon Edwards (38 games) as well as Jason Avant (35).

With his fourth PAT of the contest, Gibbons passed J.D. Carlson (126 PATs, 1988-91) for the most consecutive PATs made in program history with 127.

[The] four-overtime game against Penn State marks the longest game in school history, surpassing U-M's triple-overtime victories over Michigan State (Oct. 30, 2004) and Illinois (Nov. 6, 2010) at Michigan Stadium.
A New Valley > The Mood:
Uni Notes > None really, other than the team wore the 'LHS' on the helmets again this game – another first. U-M has never wore an honorary decal (Kramer, Bo, Ford) for more than a game. Uniform Timeline.
Elsewhere:
mgoblog – Ace: "That was the stupidest f***ing football game I've seen in my life. The end." & Hot model kitten puke.
Hoover Street Rag – No luck with the search for Al Borges' vindication.
Touch the Banner:
Michigan can't run the ball, and that's not going to change. At this point in the season, I feel pretty confident in saying that nobody but Gardner will be able to run the ball effectively. Gardner even carried the ball 24 times, and he's not going to hold up with that type of responsibility on his shoulders. I hate to say this, but Michigan needs to ditch the runs from under center and become a team that throws the ball 40-45 times a game.
I cannot comprehend some of the coaching decisions that were made in this one. Punting up 7 with a minute left yielded 17 yards. That's nothing in a two-minute drill. Michigan had the chance to put the game out of reach with a FG attempt late and did not. Nor did they really try for any endzone chances in overtime – I did not see a single attempt into the endzone. Penn State was ultimately rewarded for this with a justified pass interference penalty, after which they were able to walk it into the endzone.
More from MVictors:
Dr. Sap's Decals : Tragic Valley Edition
Brittle Foundation
TWIMFbH: Introducing Fielding Harris Yost
Follow MVictors on Twitter